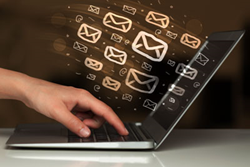 Most companies don't realize that when you add up the daily time that email users spend with junk mail, there is a material hidden cost through lost productivity.
Toronto, Ontario (PRWEB) February 24, 2017
Cartika, a leading provider of managed application and cloud hosting services, announced today its new SPAM-filtering-as-a-service platform. The new offering provides higher levels of functionality and protection for companies when email availability is an absolute necessity. With an attractive per-domain pricing model, ease-of-use, and flexibility, the service is an ideal fit for organizations that rely on email but can't justify investing in dedicated solutions.
Research shows that 17% of the time people spend in the workplace is used sifting through and managing their inboxes. A large percentage of that time gets wasted on irrelevant transactional marketing and promotional messages. In conjunction with a corporate email management strategy and employee training, advanced SPAM-filtering can substantially reduce the time email users spend each day viewing, deleting, or unsubscribing from unwanted communications.
According to Cartika CEO Andrew Rouchotas, "for companies where email is business-critical, SPAM-filtering is an essential part of proper email management. This was a natural extension of our current Microsoft Exchange offering, and the decision to build a SPAM-filtering platform was the result of demand from clients looking for better control over unwanted email to increase user productivity. Also, many of Cartika's customers wanted better protection from malicious activities such as phishing scams and the delivery of viruses through email."
Cartika's SPAM-Filtering-as-a-Service solution works with all major email systems such as Microsoft Outlook, Gmail, Yahoo, and others. And, the email server can be hosted by Cartika, reside in the client's in-house facilities, or even be hosted by another managed services provider. The customer has full control over the domains and email addresses that can communicate with them.
The new service also includes outgoing filtering to control the types of messages that can be sent out from the client's system. This feature helps protect companies from being "blacklisted," tarnishing their corporate reputation, and impairing their future email deliverability. All this combines to provide a high level of flexibility for those looking for robust and cost-effective SPAM-filtering.
Rouchotas pointed out that "most companies don't realize that when you add up the daily time that every email user spends with junk mail, there is a significant hidden cost in the form of lost productivity over a year. With a conservative estimate of 10 minutes per day, per user - that results in nearly a full week of lost productivity a year for each employee on the system."
About Cartika Inc.
Founded in Toronto in May 2000, Cartika Inc. has established itself as a leader in application hosting and advanced clustering technologies. Cartika's unique offering has made them a popular choice for cloud users across North America. The company's broad range of infrastructure solutions and modular add-ons include proactive management services, 24x7 technical support for all hosting clients, powerful load-balancing, and Cartika's industry-leading Bacula4 Backup-as-a-Service platform. For more information, visit cartika.com or follow on social media.