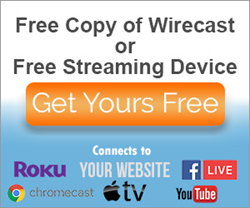 Livestreaming is such a win-win for the church. We are just happy to be a part of making that happen
(PRWEB) February 23, 2017
Churchstreaming.tv, the leading video streaming provider for churches according to churchtechtoday, has announced that it is giving away software and hardware to all new customers. In addition to the free Roku and Apple TV channels that they already provide for free, they are now letting every new customer choose between a full copy of Wirecast by Telestream or a Churchstreamer device.
Churchstreaming.tv is a full-featured video streaming platform that offers unlimited live streaming to all devices along with video archiving and full website integration. The platform also distributes the live feed to Facebook Live, Youtube Live, Vimeo, and many other social sites. Viewer mapping and statistics provide detailed data about the audience and the types of devices they are viewing from.
"We are very excited to be able to give away this software and these devices to churches. Many churches are already stretching their budgets to provide live streaming for the elderly and those that are unable to attend in person. Hopefully this will lessen the burden of the up-front cost. Live streaming is such a win-win for the church. We are just happy to be a part of helping make that happen" said Michael Smith, Director of Marketing , Churchstreaming.tv.
The availability of solutions like Wirecast and the ChurchStreamer have come at a great time for churches. Because of the influence of the internet, more and more people are interacting with their church online. Staying at the forefront of this technology not only helps churches reach new people but also allows them to stay in touch with members who are no longer able to physically attend but want to stay involved in the church.
In the past, high quality productions were only feasible for large churches that could afford expensive streaming equipment. There are many products that have hit the market in the past few years to service churches looking for a more affordable solution. Churchstreaming.tv has closed that gap even more by providing the equipment at no cost for churches.
Because of the impact that online content is having on our society, churches are having to adjust to the trends and keep in touch with their congregation through technology. Staying on the cutting edge of this technology with companies like Churchstreaming.tv helps churches reach their congregation as well as establish a great online presence in the community.