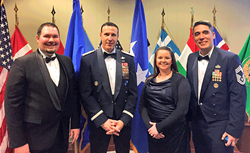 Suitland, Maryland (PRWEB) February 23, 2017
Andrews Federal Credit Union served as a sponsor for the 2016 Air Force Annual Awards Banquet at the SHAPE Club, located on S.H.A.P.E., outside of Mons, Belgium.
The dinner, an annual event Andrews Federal has sponsored over the past five years, is held to award Air Force Junior Enlisted, Non-Commissioned Officers, and Officers of the SHAPE/Chievres Community.
The speaker for the evening, Lieutenant General Steven M. Shepro, spoke on his Air Force career and how he has been stationed all over the world. He offered the following advice to the Airmen, "Get out and explore the country you are in, instead of hanging out at the barracks or on-base. The opportunities that you have are once in a lifetime."
"For the last five years, Andrews Federal Credit Union has had the privilege of sponsoring this great event," said Branch Manager Joshua Barrett. "This is just one form of recognition for the hard work that Airmen put in all year long. It is great to see the members of our community receive recognition for their hard work."
The award winners will now proceed onto the MAJCOM (USAFE) level to compete against other winners.
About Andrews Federal Credit Union
Andrews Federal Credit Union was founded in 1948 to serve the needs of military and civilian personnel by providing a vast array of financial products and services. With over $1.4 billion in assets, Andrews Federal has grown to serve more than 120,000 members in the District of Columbia, Joint Base Andrews (MD), Springfield, Virginia (VA), Joint Base McGuire-Dix-Lakehurst (NJ), and military installations in central Germany, Belgium, and the Netherlands. In addition, the Credit Union serves as a financial partner with many select employee groups in Maryland, the District of Columbia, Virginia and New Jersey.
To learn more about Andrews Federal Credit Union and its community involvement, or to become a member, call 800.487.5500 or visit http://www.andrewsfcu.org.