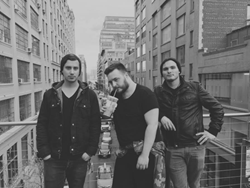 It's an amazing experience to get to be part of a show I watched with a person who helped influence my musical upbringing- Guitarist Zac Garren
(PRWEB) February 22, 2017
Back in the late 90's/early 2000's, MTV's TRL (Total Request Live) was the popular way to find out about the latest music. Fans gathered around the TV to see what song would be voted number one, and Strawberry Girls guitarist Zac Garren was no exception. Zac shared, "I would rush home by 3:30 to watch religiously after my elementary school got out at 3. That's how I discovered heavier bands like Limp Bizkit and KoRn, as well as developed a diverse taste in rap, pop, and rock."
When the TRL era came to an end, host Carson Daly would still be a staple for music discovery with his new show on NBC "Last Call with Carson Daly." Garren was an avid follower and learned of many new bands which would later be influences, as he started his musical career. Honored to be on the show, he said, "It's an amazing experience to get to be a part of a show I watched with a person who helped influence my musical upbringing."
One of the songs featured on the episode is "Black Night, Golden Circus," which is the first song that Garren and Drummer Ben Rosett ever wrote together. The track was re-recorded for their latest album, "Italian Ghosts," which was just released on February 17th. Garren explains, "When Ben and I started jamming in his parents garage 6 years ago, I don't think either of us ever expected to get on TV with our music. Now, here we are 6 years later, about to play the first song we ever wrote on Last Call With Carson Daly."
Strawberry Girls are extremely excited to be back on the show, as Garren explained, "We are forever grateful for the opportunity to expose our music to more people. We love what we do and hope others enjoy it as much as we do. We just released the re-recordings of Italian Ghosts [their 3rd release on the Warner/ADA distributed Tragic Hero Records] and It feels really cool to see everything coming full circle in so many ways. This is only the beginning."
The appearance also featured "Simon Vandetta" off their 2015 release, 'American Graffiti.' The show aired on February 21st and the videos are streaming on Hulu as well as NBC.com.
Watch Now:
"Black Night, Golden Circus": http://www.nbc.com/last-call-with-carson-daly/video/strawberry-girls-black-night/3474111
"Simon Vandetta": http://www.nbc.com/last-call-with-carson-daly/video/strawberry-girls-simon-vandetta/3474112