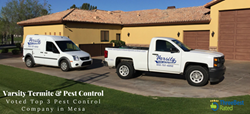 Our pest control technicians are some of the best in Arizona. We are committed to getting results through a combination of perseverance and the application of carefully honed techniques.
Mesa, Arizona (PRWEB) March 24, 2017
Varsity Termite & Pest Control announced that it was voted one of the top three pest control companies in Mesa by ThreeBestRated.com.
"We are proud to be given this recognition for our high quality of service and the results we produce," said Tony Kaufman, the owner of Varsity Termite & Pest Control. "We are dedicated to helping our customers keep their homes and businesses free of scorpions, cockroaches, and other pests common to the Mesa area. We consider ourselves to be the top pest control company in Arizona, and this recognition helps to show others why."
Varsity Termite & Pest Control offers services such as termite control, scorpion control, and pest control for carpenter ants, fire ants, bed bugs, cockroaches, bees, black widow spiders, rats, mice, and pigeons. The company helps customers to get rid of infestations, but also provides ongoing maintenance services to prevent these infestations from happening.
All the technicians are trained in the best pest control practices and are licensed in Arizona. The technicians use cutting-edge techniques to eradicate harmful and irritating pests from homes and businesses. The goal is to remove the pests as quickly as possible and with as little interruption as possible.
ThreeBestRated.com handpicks the companies that occupy the top three spots in each of its categories. It chooses these companies based on a review of the company's history, its online reviews, its overall ratings, the cost of services, and the satisfaction and trust that customers report having with the company. The site also evaluates a number of other variables to determine the company's overall excellence.
The site then lists each company with information about the services it provides, as well as its basic contact information, such as website, email, address, and phone number. Each mini-profile includes a snapshot of the type of reviews the company receives, as well as an overall star rating.
Varsity Termite & Pest Control has a five-star rating, and the sample review says, "Guy that came out for my termite problem was very knowledgeable, explained everything thoroughly and did a great job. Would definitely recommend them to others for termite control in the Mesa area."
You can find the top three recommended companies on the site by searching for keywords or looking for primary categories, such as "local services," "lawyers," "professional services," "restaurants," and "health." Under each of those categories is additional categories. For example, under "local services," you will find "Mesa pest control companies" (which is where you will find Varsity Termite & Pest Control), Mesa carpet cleaners, Mesa computer repair, or Mesa garage door repair.
Businesses are listed by state, which is further categorized by city.
Users can recommend a business for a location. Therefore, the ratings can fluctuate over time if a better business is discovered or if one of the currently listed businesses does not maintain its exceptional service record.
Varsity Termite & Pest Control has maintained consistently positive reviews across sites like ThreeBestRated.com, Yelp, Angie's List, and Google. The company is committed to providing personalized service and to resolving issues quickly and professionally.
"Our customers can expect friendly and professional service from every member of our team, whether they are calling to request and estimate or they are asking the service technician questions about the plan of treatment," Kaufman said. "We are a family owned company, and we see our customers as an extension of our family. We treat people the same way we would treat our family."
Varsity Termite & Pest Control provides pest control services in Mesa and throughout the Phoenix Valley area. The current special on ThreeBestRated.com is for $100 off termite control or $100 off scorpion control. Customers can find additional special offers on the company's website at http://www.varsitytermiteandpestcontrol.com.
Call the company at 602-757-8252 to get a free estimate for pest control services or to inquire about treatment options. https://varsitytermiteandpestcontrol.com/north-phoenix-termite-inspection