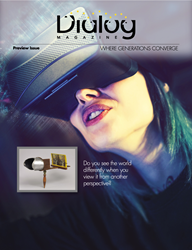 Dialog Magazine enables readers to gain understanding, increase empathy, and find greater happiness.
Denver, Colorado (PRWEB) February 23, 2017
Pink Pig Publishing LLC announces the launch of Dialog Magazine, an exciting, new, interactive publication where generations converge and explore the world from different perspectives. By providing a place for people of all ages to expand their worldview, Dialog Magazine enables readers to gain understanding, increase empathy, and find greater happiness.
"Our approach to structuring content is to confront the big issues head-on," says publisher and editor-in-chief, Ambra Watkins. "In each issue, we address one timely, controversial question. The cover story puts that question into context by providing the background and facts, while the feature articles offer different perspectives on how the issue plays out in real life where we live, learn, work, and play."
The magazine also offers advice and humor columns, quizzes and surveys, as well as vocabulary and reviews to give readers the tools they need to improve communication across generations. The content is completely interactive, allowing readers to participate and see live results, watch videos, attend webcasts and podcasts, and much more.
The digital edition of the magazine features Advontemedia's VERTIQUL delivery model, which displays content so that there's no need for flipping, pinching, or zooming; and there is no need to install or download an app. The digital version is optimized for an easy read on any desktop, tablet, or smartphone device.
Dialog Magazine is currently available on dialogmagazine.com. The first complete print and digital versions will be available on May 1, 2017. The magazine will be published every two months and distributed to newsstands across the country beginning with the May/June issue.
Subscriptions can be purchased online at dialogmagazine.com/subscribe. Single issues sell for $6.95, digital subscriptions for $9.95, and subscriptions for both digital and print for $24.95 in the U.S. and $34.95 in Canada. International subscriptions are available only in the digital format.
Companies eager to increase brand awareness across generations have a variety of advertising opportunities from which to choose, ranging from print to digital, social to editorial, as well as Dialog Magazine's monthly e-newsletter, "TheSpark." Email Mark Sells, Digital Director and Account Executive, for a customized marketing solution or call 720-955-0888.
=======================================================================================
Ambra Watkins is an established author, speaker, trainer, and change expert with an MA and a PMP certification, providing the necessary tools for intergenerational dialogue that empower young people to triumph over anxiety and depression. Find out more about Ambra and her book Escape from Dark Places at ambrawatkins.org, or email her at ambra(at)ambrawatkins.org.
Ambra Watkins is available for interviews.