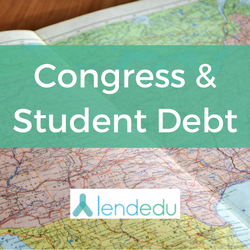 Student debt has become a political issue in the United States
Hoboken, NJ (PRWEB) February 23, 2017
Over the last election cycle, student loan debt became a political issue. According to the new report by LendEDU, the impact of student loan debt varies depending on your location and even the political affiliation of your Congressional District.
Highlights

Republican districts have 1.55x higher student loan default rates compared to Democratic districts.
In the Senate, students from Democratic-held states graduate with 25.22% more student loan debt compared to graduates from Republican states.
In the House, Democratic-held districts left graduates with 11.50% more student loan debt compared to Republican-held districts
House Democrats are 2.36x more likely to support college affordability legislation, vs. House Republicans.
Senate Democrats are 2.17x more likely to support college affordability legislation, vs. Senate Republicans.
LendEDU created two interactive maps to explore the data on a Congressional District level and state level. There are two filterable data tables which can be used to rank Senators and Representatives on a number of college affordability issues and pieces of data. The rankings show which congressional districts are giving student debtors the most, and least, amount of student debt at graduation and more.
"Student debt has become a political issue in the United States," said Nate Matherson, CEO/Co-Founder of LendEDU, "We hope that our report and rankings engage students, families, educators, and our elected officials. Our elected officials need to focus more energy on college affordability issues, including student debt."
Today, over 44 million Americans are working to repay $1.41 trillion in student debt. According to LendEDU, the average student loan borrower has $28,400 in debt at graduation. LendEDU's Congress & Student Debt Report was created using the newest Peterson's financial aid data. Peterson's released the fresh data for the Class of 2015 at the start of August 2016. LendEDU is the first organization to aggregate and analyze this data by Congressional District. "In terms of man hours, this is the largest project our team has ever worked on," said Matherson, "We put in well over 100 hours of our time into organizing, analyzing, and presenting our findings."
Congressional Districts with High Student Debt
Connecticut District 4 - Jim Himes - $42,912
North Carolina District 1 - G.K. Butterfield - $42,310
Pennsylvania District 8 - Brian Fitzpatrick - $41,864
Texas District 21 - Lamar Smith - $41,511
Michigan District 11 - David Trott - $40,976
Congressional Districts with Low Student Debt
Alabama District 2 - Martha Roby - $11,313
California District 21 - David Valadao - $11,679
Illinois District 5 - Mike Quigley - $15,713
California District 37 - Karen Bass - $15,838
Texas District 15 - Vicente Gonzáles - $16,169
To see the full data for all 435 Congressional Districts please review the full-report. We analyzed over 1,300 colleges in our full report.
###
About LendEDU
Since 2014 LendEDU has delivered free financial aid resources to high school and college students. LendEDU is a marketplace for student loans and student loan refinancing. LendEDU helps graduates find the lowest student loan quotes with one application. The company is partnered with all of the leading student loan companies including SoFi, Citizens Bank, Sallie Mae, College Ave, Earnest, LendKey, Darien Rowayton Bank, among others.
LendEDU was founded by Nate Matherson and Matt Lenhard in August of 2014. LendEDU is a graduate of Y Combinator's W16 class, the Iowa Startup Accelerator, and the Horn Program at the University of Delaware.
For more information, please contact:
Dave Rathmanner
Email: dave.rathmanner(at)lendedu(dot)com
Phone: 302-584-0389