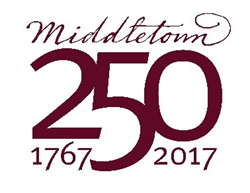 "We are excited about this milestone in our history and we invite you all to visit Middletown to enjoy our growing and thriving community, and celebrate with us." John Miller, Burgess
Middletown, MD (PRWEB) February 23, 2017
Middletown, Maryland will celebrate its 250th Anniversary throughout 2017 with a series of Town Talks, each geared to a specific historical theme that has contributed to making Middletown all that it is today. On Sunday, March 5, 2017 at 2:00pm, the Town Talk will occur at Zion Lutheran Church at 107 West Main Street, Middletown, Maryland. The subject of the March 5th event will be the arts in Middletown, as well as celebrating with birthday cake.
Middletown has been an incubator of artists for years and will celebrate this through showcasing the works of William Moran, the internationally recognized knife maker; Charles Walther, the modernist painter who was a professor at the Maryland Institute College of Art (MICA) and summered in Middletown, teaching classes known as The Snallygaster School; and Middletown native son, John Horman, a Carnegie Hall performer, teacher and writer of children's music will perform. Locally made quilts and coverlets will be on display for visitors to view while enjoying a piece of birthday cake.
According to The Early History of Middletown, Maryland, by George C. Rhoderick, Michael Jesserong was selling lots as early as March 3, 1767, thus Middletown credits its founding to the date, 1767 (even though we know settlers were living in the Middletown Valley much earlier). The Town created the 250th Steering Committee to develop a series of events that celebrate and commemorate the different themes of Middletown's history. Previous Town Talks in January discussed the role of Middletown's local style of government, being only one of five towns in Maryland that have a Burgess, and in February, the history of the local African-American community that was centered on Jefferson Street as early as 1829. Information about upcoming topics can be found at http://www.mainstreetmiddletown.org or http://www.middletown.md.us.
Burgess John Miller said, "We are excited about this milestone in our history and we invite you all to visit Middletown to enjoy our growing and thriving community, and celebrate with us."
Please join in on March 5, 2017 at Zion Lutheran Church at 107 West Main Street at 2:00pm for the third in the series of Middletown Town Talks commemorating our 250th Anniversary.