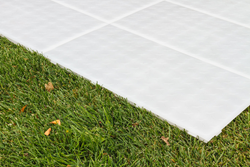 Our engineering team knocked it out of the park with the new FastDeck 2.0, an industry game changer. " Jorgen Moller – CEO, SnapLock Industries
Salt Lake City, Utah (PRWEB) February 23, 2017
SnapLock Industries, industry leader in the manufacturing and distribution of modular floors, announced this week the launch of their newest product, FastDeck 2.0. A follow-up to the already successful original FastDeck, the patented FastDeck 2.0 brings new and cutting edge technology to the temporary tent & event flooring arena. The team at Snaplock are excited about the new opportunities FastDeck 2.0 will bring to stadium owners, event planners, and any other venues with a need for a high quality and cost effective temporary flooring.
"With the tremendous success of our original multi-purpose FastDeck portable flooring system, we saw the need for a specific temporary flooring system for use over natural grass and synthetic turf that was of high quality and cost effective. Our engineering team knocked it out of the park with the new FastDeck 2.0, an industry game changer. " Jorgen Moller – CEO, SnapLock Industries
FastDeck 2.0 is manufactured from a proprietary blend of translucent high-impact copolymers designed to diffuse light and channel air through each panel. FastDeck 2.0 also features a patented surface design featuring AirHole™ ventilation, designed to prevent any heat and harmful gas from being trapped beneath the surface. This new combination of technology ensures temporary flooring that will not only protect natural grass or synthetic turf from foot and vehicle traffic, but will also keep grass and turf green and healthy. For years, stadium owners and event planners have struggled to find the appropriate length of time to keep a temporary floor down before grass will yellow and or die. FastDeck 2.0 virtually eliminates this concern, allowing light and air to reach grass while letting heat escape.
FastDeck 2.0 also brings a new positive locking system to each panel, guaranteed to 'snap in' easily over soft, uneven terrain including grass, sand, dirt, road base and more. Disassembly is just as easy, simply fold the panel and pick it up and out for easy storage. FastDeck 2.0 was engineered with the temporary flooring industry in mind - incredibly fast deployment and removal without tools or training, saving time and costly labor.
ABOUT SNAPLOCK:
The team at SnapLock has been manufacturing and distributing modular floors for over 30 years. SnapLock product as are all 100% made in the USA, manufactured in their 180,000 square foot ISO 9001:2008 facility.