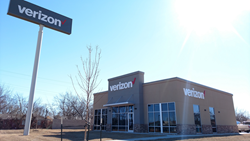 We look forward to serving the people of Mustang and Canadian County.
MUSTANG, Okla. (PRWEB) February 23, 2017
Cellular Sales, the nation's largest Verizon premium retailer, has opened a new store in Mustang.
The new store, located at 318 E State Highway 152, opened Feb. 3. This marks the sixth Cellular Sales store in Oklahoma and the fifth location the company has opened in the past 12 months in the Sooner State. With other stores in Oklahoma City and Norman, the Mustang location represents Cellular Sales' third Oklahoma City-area storefront.
"Oklahoma City has served as a big area of growth for us over the past year," said Regional Director Angel Gorrin. "We look forward to serving the people of Mustang and Canadian County."
In 2016, Cellular Sales opened stores in California, Colorado, Arizona, Idaho and Arkansas for the first time, broadening its national reach. Started as a single store in Knoxville, Tenn., in 1993, Cellular Sales has since grown to become the nation's largest independent Verizon Wireless retailer, operating 600 stores across 34 states.
"We have experienced tremendous growth over the years, and we can attribute that to our laser focus on providing the best customer experience in the wireless industry," Regional Director Neil Enguerra said. "Making our customers our top priority has been a principle this company has abided by since day one, and it will continue to guide us in the future."
Cellular Sales is looking for motivated sales professionals who possess a passion for customer service to staff its Mustang store. Those interested in applying for jobs at Cellular Sales in Mustang may contact Cellular Sales Recruiter Ryan Smith at Ryan.Smith(at)cellularsales(dot)com.
About Cellular Sales
Headquartered in Knoxville, Tenn., Cellular Sales was founded in 1993 and has been named by Inc. Magazine as one of the nation's fastest-growing privately owned retailers for eight of the past nine years. The company currently employs nearly 4,500 people and operates over 600 stores nationwide. Job seekers may visit jobs.cellularsales.com. For more information on the company, visit cellularsales.com.