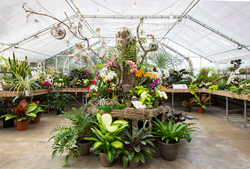 INDIANAPOLIS (PRWEB) February 23, 2017
Get a jump start on spring as vibrant colors and blooming flowers return to the Indianapolis Museum of Art. Indulge in Orchids: Cultivating Beauty, a lively display of colorful orchids open through Mar 5. Experience these exotic flowers as they fill the Madeline F. Elder Greenhouse, the Lilly House and the galleries.
Escape the winter chill inside the Elder Greenhouse. This living gallery space has transformed into a tropical paradise with hundreds of exotic orchids filling each room with bold colors.
New this year, the captivating orchid spectacle continues in the historic Lilly House and the galleries. As guests stroll through the mansion, stunning orchid displays and fragrances fill each room on the first floor. The orchid experience continues in the IMA Alliance Gallery with the Lilly Collection of Orchids in Watercolors exhibition, which features a selection of 30 orchid watercolors collected by Josiah K. Lilly, son of the founder of Eli Lilly and Company. Now until July explore various types of orchids, such as cattleyas, oncidiums and paphiopediliums in this unique exhibition. Through these works guests will be able to discover botanical facts about orchids and learn more about the Lilly family's interest in collecting and growing them.
Looking for your own pop of color to take home? Orchids are also be available for purchase at the Pop-Up Shop in the Bret Waller Gallery located inside the main museum building, where IMA staff and volunteers are on hand to share advice on orchid care.
Explore the tasteful side of orchids in the IMA Café. The Café features orchid inspired menu items during the exhibition, including a candied ginger crème brûlée with a coconut whipped cream and orchid blossom topping, and a lavender agave glazed chicken romaine salad drizzled with a vanilla brown butter dressing.
Orchids: Cultivating Beauty is included with general admission and free for IMA members. This project is made possible by a generous gift from Lilly Endowment, Inc.
More blooms on the way
This spring, experience the IMA campus as never before when the gardens come alive with a quarter of a million flowers for Spring Blooms: Celebration of Color, opening March 31. Take a breathtaking stroll around the campus with each twist and turn unveiling a new splash of color from crimson tulips to golden daffodils and much, much more.
To learn more, visit http://www.imamuseum.org.
About the Indianapolis Museum of Art
The Indianapolis Museum of Art (IMA) is located on a 152-acre campus of lush gardens, historic homes, outdoor sculptures, inspiring performance and gallery spaces. Founded in 1883, the IMA is among the 10 oldest and 10 largest encyclopedic art museums in the United States and features significant collections of African, American, Asian, European, contemporary art and design arts that spans 5,000 years of history. With innovative programming to engage guests of all ages, the IMA offers a variety of interactive experiences inside the galleries, throughout the campus and within the local community. From gardening demos in the Madeline F. Elder Greenhouse to outdoor film screenings in the IMA Amphitheater to community celebrations in The Virginia B. Fairbanks Art & Nature Park: 100 Acres, guests are invited to engage with art and nature in exciting new ways at the IMA. Along with the Indianapolis campus, the IMA also owns the Miller House and Garden in Columbus, Ind., one of the nation's most highly regarded examples of mid-century Modernist residences. For more information visit http://www.imamuseum.org.