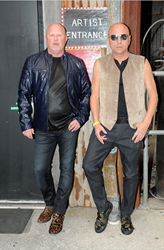 Big special thanks to Jimmy, Josh Harris, and all of the remixers and DJs supporting this project. We have been having quite a good time working with everyone on the 'Living in Time' album. Every track is intrinsically creative and beautiful. - Mike Score
New York, NY (PRWEB) February 23, 2017
New York, NY – Jim Straz Publicity (February 23, 2012) *** Blasting off with a hit record, Jimmy D Robinson reignites A Flock of Seagulls' engines after 35 years in the music business. Poet Jimmy D Robinson & A Flock of Seagulls soar to #25 on the Billboard Club Play Chart this week (Chart date: 2/23/2017). Robinson's "Ageless Prince," a composition from the book of poetry Imagination is Free was brought to life by the melodic genius and vocal stylings of Seagulls' front man Mike Score coupled with the inspiration of Josh Harris' deep house chill lounge studio production. "Ageless Prince," the collaboration's debut single also features a bevy of dance remixes propelling the song to peak at #7 on the UK's Music Week chart, #9 on Europe's DJ Buzz Chart, while also building a story in Asia, Brazil, and Mexico.
The charting success is no small feat for the modern poet and the Grammy Award winning 80's punk rock band. Jimmy D Robinson and A Flock of Seagulls were photographed celebrating their charting victory by Getty Images at private gig held at the House of Blues Orlando. Jimmy D Robinson wears beige vest by Donatella Versace. Check out the photos here.
"It's been absolutely amazing to receive such great feedback from the fans about 'Ageless Prince,' throughout America and Europe," states Jimmy D Robinson, who also makes a vocal appearance on the hit single along with Mike Score. "The success of 'Ageless Prince' has given us the impetus to carry on with an extended album of songs together. We can't wait to break out our follow-up single 'Pedro.'"
For the last 10 years, Jimmy D Robinson's arsenal of poetry has been worked into dance music masterpieces via both spoken word performances and powerhouse diva vocals. His latest partnership with A Flock of Seagull's proves to be Robinson's greatest curation to date. Their work together, thus far, is encouraging a Seagull's resurgence as they ascend the Billboard chart with a hit record 35 years into their career. It also should be noted that A Flock of Seagull and their biggest hit single "I Ran" is written into the script of this year's Oscar nominated film "La La Land."
Mike Score, lead singer of Seagulls exclaims: "What a great year so far! Hailing from a pop/punk rock background and now working in the deep house chill genre with Jimmy D Robinson is something quite unexpected for us. The fans however, are really enjoying the new music. Big special thanks to Jimmy, Josh Harris, and all of the remixers and DJs supporting this project. We have been having quite a good time working with everyone on the 'Living in Time' album. Every track is intrinsically creative and beautiful."
The second single planned for release by Jimmy D Robinson & A Flock of Seagulls is a chill track originally produced by Josh Harris entitled "Pedro," which is from the book of poetry All I See. Score himself selected the poem "Pedro" to record and be the next single. Transformed into song with infectious melodies and hooks, music lovers from all over the world are destined to fall in love with "Pedro."
Robinson who also performs the single's title lyric in the song, has enlisted some of the world's best producers to remix the track for dance floors. Grammy-winning producer, house DJ, and remixer Dave Audé has just signed on to remix "Pedro," along with internationally acclaimed producers Mauro Mozart, Mike Cruz, Daniel Mart, DJ Slam (German), Roger Grey (Mexico), Ryan Skyy, Timmy Loop and DJ Leonardo GloVibes.
Be on the lookout for the Mind Juice Records' major release of "Pedro" this spring, which will be handled by Loren Chaidez Promotions.
About A Flock of Seagulls
A Flock of Seagulls are an English new wave and synth-pop band originally formed in Liverpool by Michael "Mike" Score (keyboards, vocals) and his brother Alister "Ali" James Score (drums). With being the first band signed to Jive Records and (BeBop Deluxe guitarist) Bill Nelson and (Gong bassist, OMD and Teardrop Explodes producer) Mike Howlett at the production helm the third single, "I Ran" from A Flock of Seagulls' 1982 eponymous debut, became a worldwide hit charting at number 1 in Australia and Top 10 in the US. The album achieved similar acclaim, winning a Best Rock Instrumental Grammy Award for the song "D.N.A." More success, including the UK Top Ten smash "Wishing (If I Had A Photograph Of You)" from their second album Listen in 1983 and "The More You Live, the More You Love" from 1984's The Story of a Young Heart followed as they became one of the darlings of MTV. A Flock of Seagulls continues to maintain a very active worldwide touring calendar.
About Jimmy D Robinson / Mind Juice Records
Jimmy D Robinson is a record producer, songwriter, poet and lyricist—as well as a world-renowned art dealer. His artistic work has him a sterling reputation in the world of art, publishing, and music. He has collaborated with many singers such as Carol Jiani, Melba Moore and A Flock of Seagulls.
Jimmy D Robinson Twitter: @jimmydrobinson
Mind Juice Records Twitter: @mindjuicerecord
Poet Jimmy D Robinson on SoundCloud.