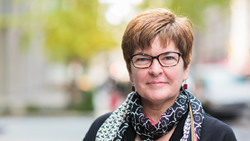 I am looking forward to highlighting the people making the news in our new community on ‪Petri.com.
New York, NY. February 23, 2017 (PRWEB) February 23, 2017
BWW Media Group is committing further to its vision as the trusted voice that fuels the IT professional community by partnering with tech industry journalist Mary Jo Foley. Together they are launching an online platform that showcases the already existing, yet often not discovered or well-known, communities where support and collaboration occur among technologists.
Ms. Foley has been covering news on Microsoft and the industry for more than 30 years and will continue to write for publications such as ZDNet as she assumes the new role of Chief Community Magnate for BWW Media Group. Ms. Foley will use her vast knowledge of the Technology community to identify and illuminate the top contributors from the industry in a new community space on Petri.com, a BWW Media Group brand.
"Mary Jo is a dear friend to BWW Media Group and we are keen to partner on a community that is dedicated to the notable individuals who continually share their expertise with the community. We want to support those that are always willing to share their knowledge in the hopes of propelling their colleagues forward. This is an area that we are focusing on and one where we know Mary Jo has a passion – it's thrilling for BWW Media Group and Mary Jo to work on building and supporting this community together," states George Coll, CEO and Managing Partner of BWW Media Group.
In the coming months, BWW Media Group will re-launch the ‪Petri.com website, an IT knowledge base and collaboration center, with an improved user experience and stronger relationships with readers and contributors. With this re-launch, the full community experience with Ms. Foley as the leading voice of that community will be realized.
"I am excited to be concentrating on the individuals that contribute every day to the industry that I have been covering and writing about for more than three decades. I am looking forward to highlighting the people making the news in our new community on ‪Petri.com," says Ms. Foley.
Ms. Foley will start to showcase individuals on ‪Petri.com starting on March 1, 2017 as a precursor to the full community launch in the Spring of 2017.
***
About the Petri IT Knowledgebase
As one of the world's leading IT-related content and community sites, the Petri IT Knowledgebase offers thousands of articles focused on helping IT professionals and system administrators do their jobs faster and more effectively. In addition to having an extensive library of how-to and tutorial content focused on Microsoft Windows, Windows Server, Exchange Server, System Center, Cisco, VMware, and dozens of other IT platforms and technologies, the Petri IT Knowledgebase forums are also a popular online destination for system administrators to network and exchange information with their peers.
About BWW Media Group
BWW Media Group LLC is an independent, privately held company based in the Chicago, IL. area. Led by CEO and Managing Partner George A. Coll, BWW Media Group LLC is committed to providing the best content and community resources to help IT professionals and tech enthusiasts get the most out of their technology investments.
For business inquiries, contact George Coll (george.coll(at)bwwmediagroup(dot)com)
For editorial inquiries, contact Megan Keller (megan.keller(at)bwwmediagroup(dot)com)
For advertising inquiries, contact Michele Crockett (michele.crockett(at)bwwmediagroup(dot)com)