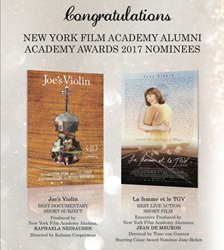 "I couldn't be more thrilled to congratulate New York Film Academy alumni Jean de Meuron & Raphaela Neihausen on their Academy Award nominations. Their stories and inspiring filmmaking make all of us at NYFA proud!"–NYFA President, Michael Young
New York, New York (PRWEB) February 23, 2017
With the 89th Academy Awards Ceremony coming up on Feb. 26, 2017, the New York Film Academy proudly recognizes two of its esteemed alumni, who are producers on Oscar nominated short films.
NYFA alumnus Jean de Meuron is executive producer on the Academy Award-nominated Live Action Short Film, "La femme et le TGV."
"I've always liked the New York Film Academy's philosophy and educational approach of learning by doing," said de Meuron on his time as a student at NYFA. "The practical experience enabled me to gain a very sophisticated understanding of physical production and all the challenges that come with it." 
In his film, directed by Timo von Gunten and starring César Award nominee, Jane Birkin, is a charming tale about a lonely woman who, through poetic and thoughtful letters, connects and builds a close relationship with a TGV train driver who passes her house at 190 mph every single day. As the two anonymous souls share their worlds by writing to each other, one fateful day the train does not pass her house, leading her to embark on a journey away from the place she calls home in search of that lost connection.
"It is a tremendous honor and privilege to be considered for an Academy Award and we are infinitely grateful," added de Meuron.
NYFA alumna Raphaela Neihausen's documentary short film, "Joe's Violin," which she produced, was nominated for Best Documentary (Short Subject). Kahane Cooperman directed the award-winning short, which has already won four Audience Awards and two Grand Jury Prizes.
In "Joe's Violin," a donated musical instrument forges an improbable friendship between 91-year- old Holocaust survivor, Joe Feingold, and 12-year-old Bronx school girl, Brianna Perez, showing how the power of music can bring light in the darkest of times and how a small act can have a great impact.
"The documentary came to life in an interesting fashion. The director, Kahane Cooperman, was driving to work one morning and listening to the radio when the WQXR promo came on asking people to donate instruments they didn't use anymore, so they could be redistributed to NYC public schools," said Neihausen. "Lucky for all of us that traffic was slow that day, so that the whole film could really play out in her mind!"
"I am constantly inspired by the phenomenal films our students and alumni make year-after-year," says NYFA President Michael Young. "I couldn't be more thrilled to congratulate NYFA alumni, Jean de Meuron and Raphaela Neihausen on their Academy Award nominations. Their compelling stories and inspiring filmmaking make all of us at the New York Film Academy proud. We will be rooting for them at the Oscars!"
Official winners will be announced at the Oscars ceremony, which will be hosted by Jimmy Kimmel on Feb. 26 at 8:30 p.m. EST on ABC.