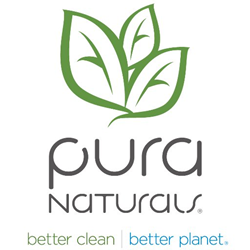 This new product and manufacturing supply arrangement uses two great technologies to completely eliminate the toughest grease and grime cleaning problems. It's a perfect fit
Lake Forest, California (PRWEB) February 22, 2017
Pura Naturals (OTC Markets: PNAT), announces that manufacturing is underway on orders from Permatex®, a division of Illinois Tool Works, Inc., for the new Fast Orange®-Infused Grime Magnet. This cleaning product will harness the power of Pura Naturals, Inc. foam technology infused with the Permatex® proprietary Fast Orange® cleansing gel.
The combination and synergy of the two technologies allow the foam to remove oil, grease, grime, paint and other everyday soils while delivering the cleaning power of Fast Orange® to more effectively fight the toughest cleaning challenges. The combined power of the two products contains the ability to absorb up to 14X its weight in oil, while repelling water and resisting mold and mildew so the product lasts longer and has no foul bacterial odors.
"This new product and manufacturing supply arrangement uses two great technologies to completely eliminate the toughest grease and grime cleaning problems. It's a perfect fit," says Robert Doherty, CEO of Pura Naturals, Inc.
Availability is scheduled for the second quarter of 2017 with widespread distribution in hardware stores across the country and sold by Permatex®.
###
About Pura Naturals
Pura Naturals has a household cleaning product that absorbs grease and grime while delivering unique soap infusion without harmful chemicals or the bacteria buildup common with typical sponge products. Pura Naturals' foam technology was developed in response to the gulf oil spill. The revolutionary foam absorbs grease while repelling water and inhibiting bacteria growth and odors. The earth conscious company prides itself on its plant-based products made from renewable resources with no petroleum by-products. Further information can be found at http://www.puranaturalsproducts.com
Forward looking statements and other important information
Some of the statements herein constitute forward-looking statements. These statements involve known and unknown risks, uncertainties and other factors that may cause the actual results, levels of activity, performance, or achievements to be materially different from any future results, levels of activity, performance, or achievement expressed or implied by such forward-looking statements.
Factors that might cause such a difference include, but are not limited to, the following:

general economic and business conditions, both national and in the regions in which the Company will operate; 
industry capacity; 
demographic changes; 
existing laws and government regulations and changes in, or the failure to comply with, such laws and regulations;
competition; 
challenges to our intellectual property rights; 
technological developments that increase the cost of providing or reduce the demand for the Company's services; 
changes in business strategy or development plans; 
the ability to attract and retain qualified personnel; 
the availability and terms of obtaining capital to fund the Company's business; 
and other factors referenced herein.
In connection with, and because we desire to take advantage of, the "safe harbor" provisions of the Private Securities Litigation Reform Act of 1995, we caution readers regarding certain forward looking statements in the following discussion and elsewhere in this report and in any other statement made by, or on our behalf.  Forward-looking statements are statements not based on historical information and which relate to future operations, strategies, financial results or other developments. Forward looking statements are necessarily based upon estimates and assumptions that are inherently subject to significant business, economic and competitive uncertainties and contingencies, many of which are beyond our control and many of which, with respect to future business decisions, are subject to change. These uncertainties and contingencies can affect actual results and could cause actual results to differ materially from those expressed in any forward looking statements made by, or on our behalf.  We disclaim any obligation to update forward-looking statements.
In some cases, you can identify forward‑looking statements by terminology such as "may," "will," "should," "could," "intend," "expects," "plan," "anticipates," "believes," "estimates," "predicts," "potential," or "continue" or the negative of such terms or other comparable terminology. Although we believe that the expectations reflected in the forward‑looking statements are reasonable, we cannot guarantee future results, levels of activity, performance, or achievements. Moreover, neither we nor any other person assumes responsibility for the accuracy and completeness of such statements.
Permatex® and Fast Orange® is a trademark of Illinois Tool Works, Inc.