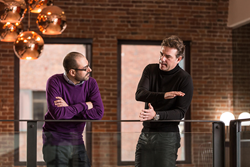 "Today customer experience is the new brand and winning requires data - the more the better." - Fjuri CEO Thom Gruhler
Seattle, WA (PRWEB) February 23, 2017
Fjuri, a new marketing and digital strategy firm, launched today to help Fortune 500 brands transform their digital marketing and customer experience capability by tapping into the power of data and predictive analytics. Founded by Microsoft and industry veterans Thom Gruhler and Paulo Resende, Fjuri helps CMOs and brands to enhance their marketing strategy and execution, while harnessing the latest data intelligence and technology to optimize marketing performance.
"Improving the customer experience by tapping into data intelligence is a priority for every brand today," said Fjuri founder and CEO Thom Gruhler. "And yet identifying the right data to model, predict, and improve the customer experience is a tough challenge for marketers. At Fjuri, we leverage big data and predictive analytics to help companies understand customers more deeply, and spot shifts that let them learn fast and act faster — whether it's attracting new customers or deliver hyper-relevant and personal content."
Fjuri is already working with major brands across categories - leveraging the latest marketing cloud and automation platforms. One of the first strategic partnerships for Fjuri at launch is with Versium, a leading predictive analytics company, to provide marketing strategy consulting services to Versium's clients. Versium Predict, the company's automated predictive analytics solution, allows sales and marketing professionals to quickly build customized predictive models that score and prioritize leads so they can identify prospects with a higher propensity to purchase and, in turn, increase conversion rates. Versium Predict is fully integrated into Microsoft Dynamics 365 for Sales, empowering users to build customized predictive models directly from within the CRM.
"We're pleased to partner with Fjuri to provide deeper marketing strategy consulting to our clients," said Chris Matty, co-founder and CEO of Versium. "With our predictive analytics technology and Fjuri's consulting expertise and content strategy, this partnership offers our clients a holistic approach that will help them exceed their sales and marketing goals."
"Every brand today has a different set of challenges, protocols, and key metrics they need to achieve," said Gruhler. "Our mission at Fjuri is to work with customers to tap into the right data to effectively achieve their goals across channels – from CRM and customer acquisition to their broader marketing and sales strategy."
Based in Seattle, Fjuri is a unique marketing strategy consultancy offering digital strategy, multichannel, development and managed solutions for its clients. Fjuri works with clients to enhance marketing strategy and execution – harnessing the latest approaches, world-class technology, data science and the right analytics architecture to optimize marketing performance and increase ROI.
For more information, please visit http://fjurigroup.com/