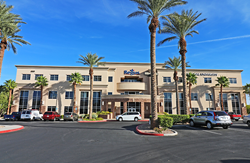 Las Vegas, NV (PRWEB) February 27, 2017
Jordan Wirsz as a principal and CEO of Savant Investment Partners, a Las Vegas, Nevada based commercial real estate investment and development company announced the purchase of the Siena Office Park which includes more than 101,000 square feet of Medical Office and Traditional Office space in two beautiful Class A buildings. The Siena medical and office park, located at 2850 W. Horizon Ridge Parkway and 861 Coronado Center Drive in Henderson, is extremely well located within the Henderson medical corridor of Green Valley, with close proximity to the I-215 and the major arterials of Eastern Avenue and St. Rose Parkway. The Siena Office Park is only one block from the St. Rose Dominican Hospital campus on St. Rose Parkway.
 
These wonderfully appointed Class-A buildings will undergo minor aesthetic remodels in the months ahead. Savant Commercial Real Estate, headed by Jordan Wirsz, will be leasing the office and medical office suites ranging from 1,100 to 25,000 square feet. Siena Office Park's proximity to the St. Rose Dominican Hospital and other major employers in the Henderson - Green Valley area makes this an ideal location for those that wish to be rooted in the heart of one of the valley's most affluent and prestigious areas. Both medical and traditional office uses are available at the properties.
 
Jordan Wirsz, founder and CEO of Savant Investment Partners said, "We couldn't be happier about this acquisition. We believe in the growth of Henderson and Green Valley, as well as the continued prosperity within the Medical and professional office industries. With the acceleration of economic and business growth in the Las Vegas area, we are excited to add this property to our portfolio and continue to be a top tier space provider in the community."
The timing of this acquisition is perfect for Jordan Wirsz and Savant, as the entire Las Vegas valley is experiencing significant levels of growth. According to Wirsz, Savant expects to quickly fill all remaining available spaces in the buildings.
 
###
About Savant Investment Partners -
Savant Investment Partners is a Las Vegas, Nevada based commercial real estate investment and development firm, which handles a wide variety of real estate investment matters for its principal, Jordan Wirsz.
 
Savant Investment Partners can be reached by phone at (702) 474-3003 or through the firm's website http://SavantInvestments.com.