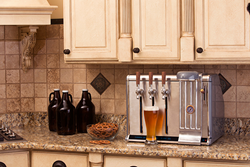 Myrtle Beach, S.C. (PRWEB) February 23, 2017
Penguin Tap Inc., launched a Kickstarter program for the Growler Chill on January 26 believing it had a product that could change the way people consume craft beer. As the crowdfunding initiative nears its conclusion, it appears the public agrees.
The Growler Chill Kickstarter program, which ends on February 28, has raised in excess of $600,000, more than tripling its original goal of $175,000 and placing it among the top 3 percent of all successfully funded Kickstarter projects.
"The response from the public and breweries, who have purchased Growler Chills and helped us share our story, has been tremendous," said Randy Hollister, the product's inventor. "The performance of our Kickstarter program has proven the market demand for a countertap that allows consumers to keep craft beer cold and on-tap at their house. People still have time to purchase a Growler Chill at a discounted price through our Kickstarter program."
The Growler Chill, which holds up to three growlers at a time, will solve several problems that plague craft beer drinkers who like to enjoy their favorite brew at home. The smart, home appliance preserves freshness, purges oxygen and keeps craft beer dark, cold and on tap.
Compatible with 32 and 64-ounce glass growlers that can be purchased and refilled at breweries, bars and fill stations everywhere, Growler Chill's patented innovations solve the growler perishability problem and extends the life of beer for weeks after opening.
Among its many features, the Growler Chill connects to the company's free mobile app, allowing users to control temperature, check pressure and track how much beer is left in each of their growlers.
The Kickstarter campaign ends February 28, 2017. Growler Chill is poised to disrupt the craft beer industry by drastically changing the landscape of craft beer growler sales worldwide. Growler Chill is the first of several products that the company plans to produce and manufacture for the beverage industry.
Growler Chill is aimed at the rapidly growing craft beer industry, which the Brewers Association estimates to be 41 Million craft beer drinkers in the U.S. alone, and growing daily.
For more information, go to http://www.GrowlerChill.com.