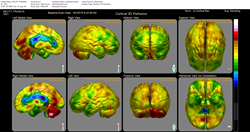 "None of this would've ever happened if I hadn't surrounded myself amongst fellow survivors at a TBI support group. By doing so I've found comfort in my own skin."
Montgomery, NY (PRWEB) February 23, 2017
At the age of eighteen, Edward Devitt II's life changed, as is often the case, in the space of an instant. The car his friend was driving, in which he was the front-seat passenger, crashed into a toll barrier, knocking him into a coma that lasted several weeks. The brain trauma resulting from the accident forced him to undergo extensive physical and cognitive therapy. Moreover, due to the many common but false perceptions surrounding such injuries, and lack of resources for those who have sustained them, he experienced a profound feeling of isolation, leading him into a vortex of depression and addiction. Now age thirty-six, addiction-free, and with virtually no residual physical impairment, he is the founder of Talking Brains Initiative (TBI), a nonprofit organization whose mission is to address the issues surrounding various forms of brain trauma. He seeks to fill a unique niche by focusing on addiction problems among veterans with PTS (Post-Traumatic Stress).
On February 24th, at 11:00 AM, Mr. Devitt will share his story with an audience of doctors, therapists, and brain injury survivors and their families at the Defense and Veterans Brain Injury Center (DVBIC) in Palo Alto, California, the VA's third largest research program. The talk will focus on his personal journey since the events of seventeen years ago, and the challenges of reclaiming his life during that time.
His invitation to speak at the conference resulted from a series of conversations he has had over the past several months with a number of specialists in the field, whom he met while attending or engaged as a speaker at various symposia on traumatic brain injuries. One of the most exciting for him was VA Braintrust, which was held in April of 2016 in Washington, DC. Notable speakers included Ross Andersen, Senator Bill Cassidy (R-LA),Senator Chris Murphy (D-CT), Caitlin Thompson, National Director, Suicide Prevention, U.S. Department of Veterans Affairs, the Senior Editor at The Atlantic Magazine, and Richard Branson, Founder and Chairman of the
Virgin Group.
Additionally, on Friday, March 24th, Mr. Devitt will tour the facilities of DVBIC, as well as consult with the staff.
"I can't believe I've been given these opportunities, just because I became honest with myself," says the soft-spoken yet fiercely committed Mr. Devitt. "I was silent for fifteen years, and thinking I was the only one dealing with these problems is I'm sure what most contributed to my struggle with addiction. What's important is to open up a dialog, impress upon people that addiction isn't a weakness, and having a brain injury isn't a character flaw."
For further information on Brain New Day, Talking Brains Initiative, and TBI's support group initiative, or to book Ed Devitt II for speaking engagements, please visit the Brain New Day web site, http://www.BrainNewDay.com
Mr. Devitt can also be contacted via email: Ed(at)BrainNewDay(dot)com.
Media Contact:
Ed Devitt II
845.341.3809
Ed(at)BrainNewDay(dot)com
http://www.brainnewday.com/