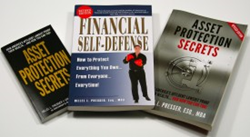 For every 60 minutes you spend making money, spend 60 seconds thinking about how to protect it!
Boca Raton, Florida (PRWEB) February 23, 2017
Financial planning exemptions are oftentimes coupled with Asset Protection strategies to optimize Asset Protection planning. In the majority of states, financial planning assets, such as life insurance policies, annuities and retirement accounts are either partially or fully creditor protected. Claiming a certain exemption status with the local government, such as homestead, is also prudent since a primary residence which receives homestead is also creditor protected. Using exemption planning leaves fewer assets that are exposed and must be protected using other Asset Protection strategies such as equity stripping, limited liability companies, family limited partnerships, etc.
1. Define Financial Asset Exemption Planning Strategies
Each and every state has a list of assets that are considered "exempt" from legal judgments and deemed to be unreachable by creditors. As a general overview, the list of assets include: retirement accounts, homestead, life insurance contracts, annuities contracts, college savings plans and wage accounts. Further, depending on the state, other assets such as hurricane savings accounts and unemployment benefits are protected from creditors as well.
2. Declare Homestead on the Primary Residence
Homestead exemptions vary from state to state and apply to individual's primary residence. In many cases, the primary home is the largest asset an individual owns. Florida has one of the most protective homestead exemption laws in the country. Florida protects 100% of a primary home of unlimited value. In other words, the creditors of a homeowner must look to other assets to satisfy their judgment, even if the primary home is worth 15 million dollars!
3. Utilize Retirement Accounts
A retirement account is essentially a savings account with major tax benefits that allows individuals to save enough money for retirement. Most state laws list these accounts as exempt from creditor attack. For instance, New York and New Jersey protects 100% of retirement accounts from creditors. However, in California, a debtor must prove that the retirement funds will be used for familial support. Visit The Presser Law Firm's Asset Protection website for a complete list of state financial asset exemptions: http://www.assetprotectionattorneys.com/Domestic_Asset_Protection/List_of_States_For_Financial_Planning_Exemptions.aspx
4. Obtain Life Insurance and Annuity Contracts
Obtaining life insurance and/or annuity contracts is not only practical in every day life, but also enjoys the benefit of creditor protection. Life insurance is a contract between an insurance company and an insured individual, where the insurance company promises to pay a designated beneficiary a sum of money if the insured individual dies. Annuities typically allow for tax-deferred growth of earnings and may include death benefits. In most states, such as Florida, the cash value in life insurance and annuities are protected from creditors' claims. Florida has very protective laws that protect 100% of the cash value, however, other states may vary.
5. Recognize Miscellaneous Protected Assets
Every state has their own miscellaneous asset exemptions that are not subject to creditor claims. Some of these asset exemptions include, but are not limited to: professionally prescribed health aids, hurricane savings accounts, medical savings accounts, unemployment benefits, certain bank accounts as well as automobiles. Checking with state law is important when determining which assets are included in the list of miscellaneous asset exemptions.
The Presser Law Firm P.A., Asset Protection Attorneys, represents individuals and businesses in connection with the establishment of comprehensive Asset Protection plans that incorporate both domestic and international components.
Visit the Law Firm's Visit the Law Firm's website (http://www.AssetProtectionAttorneys.com) for access to educational material on asset protection, business law, estate planning, and probate including webinars, articles and detailed legal explanations.
Contact The Presser Law Firm, P.A., Asset Protection Attorneys for a Complimentary Preliminary Consultation with one of our attorneys or to receive complimentary copies of our latest best-selling books on Asset Protection.
"For every 60 minutes you spend making money, spend 60 seconds thinking about how to protect it!" states attorney Hillel L. Presser, Esq., MBA regarding the importance of protecting your assets proactively.