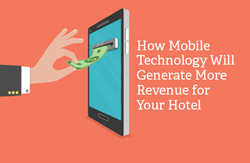 Forward-thinking hotels are leveraging cloud-based technologies to expand this revenue channel and provide greater profitability to the hotel, while actually improving the guest experience
(PRWEB) February 23, 2017
A new e-book, "How Mobile Technology Will Generate More Revenue for Your Hote l" has been released by mobile hospitality technology leader StayNTouch®. While the hotel industry is aware of the importance of a mobile as a channel for reservations, the new e-book describes the opportunity for incremental mobile-driven revenue after the reservation has been made.
Room revenue was and still is in many cases the sole focal point of many hotels bottom lines. Selling upgrades and ancillary services has always come second in line when it comes to a hotel's focus and attention. The primary impediment to such sales has been the reliance on staff-driven selling during the time-sensitive check-in process. After travelling to the hotel, the guest just wants to go to their room and is not the best audience for a pitch. The e-book explains how mobile has now created a viable and welcome sales interface with the hotel guest. Instead of a sales pitch, guests see mobile as an interface to manage their stay. By empowering the guest with stay options at their fingertips, post-reservation sales are framed as a positive feature of the hotel. The e-book details options such as:
The Monetization of Early Check-ins and Late Check-outs: Hotels can now take advantage of the variability of travel by providing ways for guests to extend their stay for just a few dollars more.
Room Upgrades: While the guest is price sensitive in the initial reservation purchase phase, the guest is more convenience focused when en route to the hotel and is open to consider a room improvement when positioned as a small additional fee.
Ancillary Services: The rich guest data many hotels now collect allow hotels to promote real time offers at the right time in their stay through text, email or in-app features.
"Most hotels think ancillary guest revenue is something only resorts think about," said Jos Schapp, Chief Executive Officer at StayNTouch. "The fact is that the opportunities to grow this channel have always existed, but the execution has been hampered by the traditional hotel service model. Forward-thinking hotels are leveraging cloud-based technologies to expand this revenue channel and provide greater profitability to the hotel, while actually improving the guest experience."
The e-book concludes that mobile solutions have the potential to transform your hotel. By utilizing mobile to offer flexible check-in and out options and promote upgrade and relevant ancillary services you to provide a highly personalized experience, improve guest engagement, elevate service levels and a boost satisfaction ratings.
The complimentary e-book is available here. To learn more or request a live demo of StayNtouch solutions, please visit stayntouch.com.
About StayNTouch®
Driven by the need for hoteliers to raise service levels to respond to the needs of today's guests and increase hotel revenues, StayNTouch delivers a cloud-based Mobile PMS with a suite of tablet-based solutions. The company's PMS Mobile Overlay brings mobility to both hotel staff and guests in order to drive guest revenue while enhancing the guest experience. With any tablet or touch device, Guest Service and Housekeeping have mobile access to PMS via a touch-optimized interface. Guests, from their smartphone, can self check-in and out, view room bill and receive upgrade promotions. StayNTouch dramatically streamlines operations and increases margins, and revolutionizes how the hotels connect and engage their guests and how guests experience their hotels. StayNTouch partners with many of the most forward thinking brands in the industry, including Yotel, Great Wolf Hotels and Resorts, Zoku Amsterdam, Porto Vista San Diego and the Fontainebleau Miami Beach.
For more information, visit stayntouch.com.
Unless indicated otherwise, all trademarks and service marks herein are trademarks of StayNTouch, Inc. or an affiliate thereof.