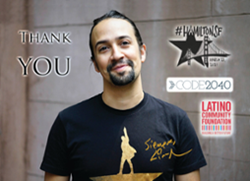 I'm thrilled to be working with Prizeo to offer one lucky winner the chance to win two tickets to Hamilton in San Francisco —all while benefitting Code2040 and the Latino Community Foundation. Lin-Manuel Miranda
Los Angeles, CA (PRWEB) February 23, 2017
Lin-Manuel Miranda and Prizeo – the online giving platform that enables those at any income level the ability to participate and give – are hosting a sweepstakes that will give one lucky winner the chance to attend opening night of Hamilton in San Francisco on March 23 with Lin-Manuel's parents – Luz and Luis Miranda!
Hamilton in SF campaign allows fans to donate as little as $10 for a chance to win tickets to see the smash Broadway hit and in the process help support Code2040 and the Latino Community Foundation, two amazing organizations that are helping build the leaders of the future.
 
"I'm thrilled to be working with Prizeo to offer one lucky winner the chance to win two tickets to Hamilton in San Francisco —all while benefitting Code2040 and the Latino Community Foundation," said Lin-Manuel Miranda.  "It is more important than ever that for-profit and civil society are stepping up to build inclusive, safe spaces where underserved and low income communities can work and thrive."
 
"We are so proud to be partnering with Lin-Manuel and Prizeo. It's an incredibly important opportunity for LCF at such a critical moment in history", said Jacqueline Martinez Garcel, CEO of the Latino Community Foundation, "One of every two kids in California is Latino, investing in them is investing in the future of our state!"
 
"This collaboration is an exciting opportunity for Code2040. Similar to our work in the tech industry, Hamilton is shining a light on the diverse talent that exists in musical theater," said Co-Founder and CEO Laura Weidman. "People of Color are underrepresented in far too many industries in this country. However, Code2040 operates on the principle that underrepresented does not equal nonexistent, rather it presents an opportunity for institutions to reevaluate their beliefs around what talent looks like. For that we are proud to partner with a musical that has without a doubt shaken things up in its industry and pushed the conversation on diversity.
Hamilton has been one of the most successful campaigns to date run through the Charity Network, which was launched by Todd Wagner in March 2016. The Charity Network provides a one-stop shop for brands, celebrities, and nonprofits launching fundraising and awareness campaigns. Each platform within the Charity Network is an established leader in its own field: Prizeo in sweepstakes and experiences, Charitybuzz in online charity auctions, and Chideo in cause and entertainment content.
 
Today, the three fundraising giants work together to offer an unparalleled and customizable "menu" of resources to raise funds and awareness for charity.
"Throughout 2016, the Charity Network partnered with Hamilton star Lin-Manuel Miranda to create a suite of digital fundraising initiatives that raised millions of dollars for charitable organizations he selected.  We are so proud to work with and celebrate not only Lin-Manuel's success with Hamilton, but also to help champion the work of these charities," Todd Wagner, founder and chairman of the Charity Network said. "Prizeo is creating philanthropists and new donors by creating incentives that interest young people that might not otherwise be donating. And while the donations might start small, it's incredibly important to get them in the habit of donating and caring about these causes."
 
Flights generously donated by Delta Air Lines.
###
About The Charity Network
The Charity Network harnesses the power of celebrity, technology, and media to raise awareness and funds for some of the world's toughest challenges. With a mission to complement traditional fundraising models and help charities transition from analog to digital, the Charity Network has raised hundreds of millions of dollars for causes across the globe. Launched in 2016 by entrepreneur Todd Wagner, Charity Network is the parent company to three top digital fundraising platforms: Chideo, Prizeo, and Charitybuzz. Each platform is a leader in its own field: Charitybuzz in online charity auctions, Prizeo in online sweepstakes and experiences, and Chideo in cause and entertainment content. These three consumer-facing platforms, all working in tandem, reach a broad and diverse group of donors from millennials to baby boomers through a network of syndicated partners including Sinclair Broadcast Group, Tribune Company, The Ellen DeGeneres Show, Twitter, Delta Airlines and more.  Together with its partners the Charity Network can amplify a cause message to reach over 80% of U.S. TV households and more than 100 million unique visitors each month. To learn more please visit: http://www.charitynetwork.com.
About Code2040
Code2040 believes that Blacks and Latinx are powerful innovators. Our Bold Goal is that, by 2040, we are recognized and valued as such, we are leading benefactors to and beneficiaries of the innovation economy, and we have the economic and social capital we need to thrive and to build generational wealth.  To learn about Code2040's programs, click here.
About Latino Community Foundation
The Latino Community Foundation (LCF) exists to harness the power and unleash the full potential of Latinos in California.  LCF is working to build political power for Latino communities, create a movement of Latino philanthropists, and invest in opportunities for Latino youth and families to thrive. To learn more about Latino Community Foundation, click here.