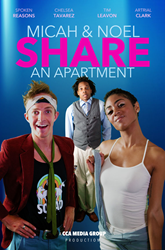 This is one comedy that every room mate can definitely relate to!
Baton Rouge, Louisiana (PRWEB) February 27, 2017
Filmmakers find success utilizing "Diverse Methods" to Greenlight and distribute films.
In the fast paced, dog-eat- dog world of filmmaking, if you're part of a small production company, an aspiring screenwriter, or maybe even a budding film director, the possibility of getting your project funded much less distributed is slim to none. But a small group of diverse filmmakers decided to do the impossible and they prefer to do it on a weekly basis.
CCA Media Group consists of Detroit Native Charles Jackson, Alabama Native Clarence Thomas, and Louisiana Native Aaron L Williams. Together they have recently completed their 4th film "Micah and Noel Share an Apartment. Their Individual portfolios as film makers span over 60 films, television programs, and stage productions. Their previous projects, without the backing of a large studio or major financing, have all been distributed internationally across various platforms including Theatres, Walmart, Redbox, Amazon Prime, VOD, DVD, TV, and streaming sites. So what's the secret?
"Diversity. It's really not much more to it." Clarence Thomas, producer and screenwriter for CCA Media admitted. CCA's backbone is diversity. Not only boasting black owners, CCA routinely works with fresh creative producers and directors of all races, genders, and backgrounds. They focus on diverse crews, up and coming film editors, composers, and animators. Their multiplicity spills over into their content, spanning from Horror,Comedy, Romantic Comedy, Sci-Fi, Faith Based programming and Children Programming. "Film financing is an art. For every script we produce, I develop a formula to maximize its impact and performance in the marketplace. Every good script has an audience and it's my job to find it..." says Charles Jackson, producer and expert Independent Film Financier. CCA Media Group's methods of diversity spans more than just on screen. From developing technology platforms for On Demand Streaming, to Developing relationships with Broadcast Networks across the country, to forging partnerships with National Theatre chains, Aaron L Williams, CCA Media Group's Media Production and Software Production guru takes the simplest of ideas and brings them to life on a scale that makes CCA Media Group a force to be reckoned with and has distributors seeking out their latest releases.
"Funding is good, but exploring and putting ideas together from creative minds from all walks of life, and exploring different perspectives is humbling. It's what story telling is supposed to be about" Thomas said. "We look for fresh, new, and undiscovered talent and bring them to the forefront. From minority female producers, to Hispanic and African American directors, and award winning Indie Directors, we pride ourselves in finding the best in diverse talent."
Their latest offering, a slacker/millennial comedy Micah and Noel Share an Apartment, shows their philosophy on display. Micah and Noel is a funny, lighthearted feature film in the tradition of "The Odd Couple" about two mismatched college roommates. Uptight med student Micah is about to graduate medical school and is moving into his very first apartment. He just wants some quiet time alone to study and finish up his classes before starting his residency. His world gets turned upside down with the arrival of Noel, a fast-talking, wannabe internet celebrity who has been kicked out of his father's house and needs a place to stay. Noel convinces Micah to let him share the apartment, but Noel's crazy schemes, bizarre fiends, and eccentric wardrobe choices turn out to be more than Micah can handle. Micah and Noel stars Artrial Clar, Tim Leavon, Chelsea Tavares (Make it Or Break It), and features YouTube sensation Spoken Reasons.
Learn More at:
https://www.facebook.com/MicahandNoel/
For More Information Contact Aaron L. Williams
(818) 927-0510
Check out the Trailer below:
https://youtu.be/RpDXXI4h7m8
aaron(at)ccamediagroup(dot)com ####