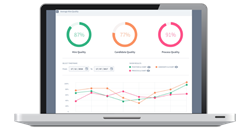 The new version reinforces delivery of three key benefits. Firstly, it enables recruitment to be right, first time. Secondly, it creates a more efficient process. Thirdly, it saves the money that is often wasted through poor hiring decisions
Glasgow, Scotland (PRWEB UK) 28 February 2017
The platform has been developed by Gavin Speirs and Howard Flint, experts in recruitment with considerable industry experience and an excellent understanding of the issues faced by corporate recruiters. Their distilled knowledge has shaped the design of the upgraded Talenytics platform.
Gavin Speirs, also owner of Scottish recruitment powerhouse Solutions Driven, leads the team: "The new version reinforces delivery of three key benefits. Firstly, it enables recruitment to be right, first time. Secondly, it creates a more efficient process. Thirdly, it saves the money that is often wasted through poor hiring decisions."
"This supports what many recruitment and business leaders want – a way to truly manage and measure Hiring Quality. But most don't do it because they can't do it. It's a bit like 'nailing jelly to the wall'. It's too problematical to collect the data that lets you measure it in any truly meaningful way," says Gavin Speirs.
At the heart of Talenytics is its proprietary Q-Chart tool. Talenytics collects the right data, at the right point, in the right way to support quality management of the hiring process. This provides recruiters with the ability to learn from previous successes and failures.
Howard Flint, Chief Strategy Officer, formerly managing director of leading UK Recruitment Process Outsourcer (RPO), Omni RMS, says: "From brief all the way through to post-hire, Talenytics lets recruiters and Hiring Managers collaborate more effectively and promotes positive working relationships. Our solution complements the ATS systems that are widely used by enterprise recruiters and RPO's.
"Talenytics lets recruiters and Hiring Managers truly define the spec for a good hire before the ATS markets the role, and sifts and shortlists candidates. The shortlist is then brought into Talenytics which lets interviewers score and analyse the performance of each candidate."
Machine learning is being applied to develop algorithms that enhance software applications in many areas of business. Talenytics is following the trend, enabling the platform to deliver much greater value to recruiters. Gavin Speirs says: "The software processes data through its algorithm. Effectively, this combines the candidate scores with the selection criteria to identify the best candidates, letting your team make better decisions on who to hire.
"Post-hire, Talenytics collects metrics that are vital to those that want a more data-driven approach to recruitment. Using data that shows the success of a new recruit reveals the true picture of Hiring Quality. Learning from this improves future hiring, transforming Hiring Quality over time."
Find out more about Talenytic's Hiring Quality Platform here.
## ENDS ##
About Talenytics
Talenytics was born in Scotland – the home of whisky, golf, haggis, William Wallace and most interestingly Talenytics!
We were developed by a Recruiter who had a strong desire throughout his career to make the recruitment process not only more measured, but more defined and transparent with a real emphasis on the overall quality of hire and the hiring process.
We're a growing team (some techy, some salesy and some a little weird!) and together we are really excited about helping Recruiters and Hiring Managers collaborate better to improve Candidate and Process Quality. We want to be the first company who really delve in and properly measure Hiring Quality. Lots of work has been done on cost per hire and time to hire and we feel like Hiring Quality has been left behind – well, by everyone except us!
We are also really passionate about the voice of the customer and Talenytics will give the Recruiter, Hiring manager and candidate a voice throughout the recruitment process.
Pretty neat, if you ask us.