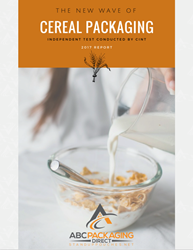 I'm not willing to give up my favorite brands for new packaging of new brand. If my favorite brands had new packaging, then we'd be in business. — 'The New Wave of Cereal Packaging' report, 2017
Cleveland, Ohio (PRWEB) February 28, 2017
StandUpPouches.net, the leading online supplier of flexible packaging solutions, released a new report that examines advances in the cereal packaging market. By teaming up with independent research firm Cint, the packaging supplier was able to survey more than 1,000 consumers about their preferences toward traditional cardboard cereal boxes versus new resealable stand up pouches that mimic the classic box shape. This exclusive report was conducted in an effort to shed light on new packaging innovations happening in the United States and overseas, as well as introduce developments in the marketing and packaging of cereal to leading brands in the industry.
While many U.S. CPG companies are revitalizing their brand images and embracing flexible packaging to contain their products, the cereal market remains largely stagnant in this area. Per StandUpPouches.net's report, "The New Wave of Cereal Packaging," it is evident that the traditional bag-in-box packaging model is falling out of fashion as today's consumers are becoming used to added convenience and more sustainable products and packaging. New progressions in the manufacturing of flexible packaging allow suppliers to create customized, reclosable stand up bags that mimic the shape of the classic cereal box, to allow for continued product recognition, while offering significantly more convenience and freshness for consumers.
Through focus groups, testing and ongoing consumer feedback, the packaging supplier has learned more primary shoppers are open to trying new products packaged in flexible pouches. Consumers are also willing to stick with their preferred brand if they made the switch from the traditional cardboard box to resealable flexible box bags to package their products. With hard data and statistics, this new report examines surveyed consumers' shopping habits and perception of a cereal product's appeal, value and freshness based on its packaging. These insights allow cereal companies to get inside the mind of their target customer and better understand their decision-making processes at the point of sale.
As detailed in the report, 92% of surveyed consumers said they felt cereal packaged in a reclosable stand up pouch was "very different" than other boxed cereals on the market. Out of the 1,000+ participants, 928 said a reclosable stand up bag would also keep cereal fresh the longest compared to the box packaging they are used to seeing at their preferred grocery store.
More data, including a full description of new flexible box bags for cereal packaging, is available in the full report. The resource can be downloaded for free via the StandUpPouches.net website: https://info.standuppouches.net/the-new-wave-of-cereal-packaging-report-2017
About StandUpPouches.net:
StandUpPouches.net is a leading online supplier of flexible retail packaging solutions for many of the world's largest brands. By partnering with small and mid-market businesses, the company has helped its customers build their brands and successfully market their products using the finest printed pouches in the industry.
About Cint:
Hosting 25 million registered consumers worldwide, Cint maintains an online insights exchange platform that connects community owners to researchers, agencies and brands, for the sharing and accessing of consumer data.