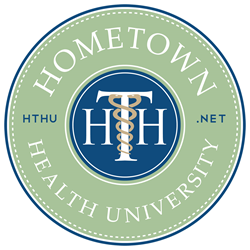 Our partnership with IACET is a demonstration of our commitment to lifelong learning and high standards for all of our programs.
Cumming, GA (PRWEB) February 24, 2017
For the second time since its creation in 2006, HomeTown Health, LLC was awarded the prestigious Authorized Provider status by The International Association for Continuing Education and
Training (IACET). IACET Authorized Providers are the only organizations approved to offer IACET Continuing Education Units (CEUs). The recognition period extends for five years, and includes all programs offered or created during that time period.
"HomeTown Health, LLC is proud of our education programs which now train over 10,000 active healthcare professionals each year," stated Jimmy Lewis, HomeTown Health CEO. Lewis added, "Our partnership with IACET is a demonstration of our commitment to lifelong learning and high standards for all of our programs. Education is a key function of quality health care, and we are proud to be recognized by such a prestigious organization as IACET."
With the IACET accreditation, educational offerings provided by HomeTown Health can be utilized for a number of organizations within the healthcare and professional industry that have pre-approved acceptance of the continuing education units. Organizations including numerous state Nursing Boards, various health care therapists and technicians, Pharmacists, EMTs, Human Resource Professionals, and others requiring continuing education can add to their portfolio and remain current on industry change. (For a complete list of organizations that accept IACET CEUs, please visit http://www.iacet.org.)
Jennie Price, the Director of Business Development for HomeTown Health manages the accreditation processes within the organization. "It is very important that our education is current and timely, and that it continues to develop to meet the needs of our health care learners in a highly changing industry," she notes. "Our commitment to following our IACET approved standards ensures that our team is building education based on the ongoing needs and feedback of the end user as well as the expertise of our instructors. We are very pleased to have been awarded our re-accreditation approval to such a prestigious organization as well as an elite group of organizations that offer excellent continuing education and training programs."
HomeTown Health provides training primarily to hospital and physician office employees nationwide, but also work with others in Long Term Care facilities. Additionally, HomeTown Health provides learning tracks specific to health care science students at the high school and college level, as well as in other healthcare facilities. The education is offered in various formats, including live events, webinars and online learning modules through the HomeTown Health University Learning Management System at http://www.hthu.net. Education is offered in various schools, including the:

School of Revenue Cycle Management, including PFS/Business Office Certificates
School of Clinical & Staff Compliance
School of HIT & Transformation
School of Nursing Continuing Education
School of Physician Office Education
School of Long Term Care
School of Documentation & Coding
Custom Online Annual Education Programs
Custom Student & Educator Programs
Hospital Board Governance Programs
Other specific education topical programs
In addition to the online course offerings, a number of live conferences and workshops are offered to hospital leaders throughout the year, offering accreditation and interactive learning opportunities. HomeTown Health also offers education via a number of live ongoing webinar series, such as Medicare Reimbursement Webinars, state Medicaid webinars, Critical Access Hospital webinars, and Coding Update Webinars, among others. In 2016, over 130 webinars were provided.
In order to achieve Authorized Provider status, HomeTown Health, LLC completed a rigorous application process, including a review by an IACET site visitor, and successfully demonstrated adherence to the ANSI/IACET 1-2013 Standard addressing the design, development, administration, and evaluation of its programs. HomeTown Health, LLC has pledged its continued compliance with the Standard for the next five years as an authorized provider.
Price notes that "HomeTown Health is very proud of the work that our team does to assist our member HomeTown Health hospitals, and we know they are proud of their staff for their ongoing commitment. Our live site review for re-accreditation was held onsite at Upson Regional Medical Center, a long-time user of HomeTown education. As we walked in, displayed proudly on the wall in their Business Office was a Certificate of Appreciation from HomeTown Health from 2006 – over a decade ago -- noting their achievement for completion of the first initial ten courses that were put online. Today, their business office staff, led by Diane Oglesbee, Upson Regional's Director of Patient Financial Services, continues to integrate the education into their culture that promotes ongoing professional development, and utilizes what is now over 100 courses within their business office. It is just one of many examples of the partnership in education that HomeTown is proud of, and that keeps us motivated to continue to serve healthcare facilities dedicated to staff improvement and educational advancement."
About HomeTown Health, LLC: HomeTown Health, LLC is a network of rural hospitals, healthcare providers, and best practice business partners who collectively pursue ways to help its members survive in this environment of constant change in reimbursement, operations and technology. HomeTown Health, LLC is committed to providing legislative representation, best practice solutions and continuing education and training through research and the continuous improvement of processes for healthcare providers. For more information, visit http://www.hometownhealthonline.com or http://www.hthu.net.
About IACET: IACET is the premier standards-setting organization for continuing education and training. Their strategic mission is to promote IACET standards as a benchmark for quality program delivery. IACET Accredited Providers are an elite group of educators dedicated to quality in continuing education and training. Consumers trust the IACET CEU because they know that the Accredited Providers' processes must follow the ANSI/IACET Standard for Continuing Education and Training and have been thoroughly assessed by a third party. For more information, please visit http://www.iacet.org.