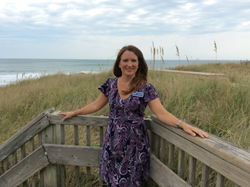 Kitty Hawk, NC (PRWEB) March 10, 2017
Lisa Strydom of the Outer Banks of North Carolina, has been awarded the prestigious Certified Residential Specialist (CRS) Designation by the Council of Residential Specialists, the largest not-for-profit affiliate of the National Association of REALTORS®.
REALTORS® who receive the CRS Designation have completed advanced professional training and demonstrated outstanding professional achievement in residential real estate. Only 29,000 REALTORS® nationwide have earned the credential.
Home buyers and sellers can be assured that CRS Designees subscribe to the strict REALTOR® code of ethics, have been trained to use the latest tactics and technologies, and are specialists in helping clients maximize profits and minimize costs when buying or selling a home.
Lisa Strydom is a Broker Associate with Coldwell Banker Seaside Realty. She is a member of the Outer Banks Association of REALTORS® and is also a member of the Sandman Team.
"The largest benefit of obtaining my CRS is the education opportunities are top notch and always on point with current market trends. Also, the referral program connects me with great agents across the nation for both incoming and outgoing business. I can trust CRS to connect me with an agent who is well informed and responsive," says Lisa Strydom.
"There are not many agents in our area with the CRS designation and I am very proud of Lisa for investing in her career and earning this prestigious designation," says Pamela Smith, Vice President of Sales and Relocation.
Coldwell Banker Seaside Realty is a consistent top producing firm with over 25 years of local knowledge and experience. Family owned and operated, the company offers real estate services across the entire Outer Banks as well as all of northeastern North Carolina. Combined with the Coldwell Banker brand, one of the largest and most influential residential real estate brokerage franchises in the world, Seaside Realty offers top-tier real estate services to buyers and sellers throughout the region.