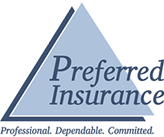 "Hogan's leadership and enthusiasm have been invaluable. His innovative thinking and vision will continue to enhance the strategic direction, growth, and profitability of Preferred," said Sullivan
Fairfax, VA (PRWEB) February 23, 2017
Preferred Insurance Services, Inc, an independent insurance agency providing risk management solutions, is pleased to announce the continued growth of our agency and of our colleague Ryan Hogan to Partner. This announcement was made by Patrick Sullivan, President of Preferred Insurance. Ryan was formerly Vice President.
"Hogan's leadership and enthusiasm have been invaluable. His innovative thinking and vision will continue to enhance the strategic direction, growth, and profitability of Preferred," said Sullivan.
Hogan joined Preferred as a Commercial Lines Agent in 2007. His experience with client-focused risk management solutions in the construction industry made him a natural fit for the role of Vice President. He served as a board member on the American Subcontractors Association of Metro Washington for four years and now serves the board in an advisory role.
As Partner, Hogan will continue to oversee sales production and development, networking and marketing operations while guiding the definition and demonstration of Preferred's vision.
About Preferred Insurance
Since 1996, Preferred Insurance has focused on providing outstanding service to individuals, families, and businesses in the Maryland, Virginia, and Washington DC area. We are a locally owned independent insurance agency with offices in Fairfax and Leesburg. Working with the top insurance providers in the country, we can offer remarkable selection of products and services. This combined with our staff's exceptional knowledge in all lines of business, including property, casualty, benefits, personal lines, and life products; we can provide the exact coverage that will satisfy your unique needs.
For more information about our passion and the rest of our team at Preferred Insurance, please visit us at http://www.preferins.com, follow us on LinkedIn and like us on Facebook.