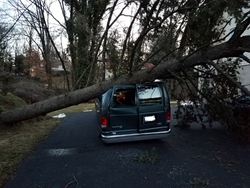 Wind damage causes billions of dollars in damage annually in the U.S., making proper tree care essential in reducing unwanted tree removal costs, while keeping homeowners safe.
Huntingdon Valley, PA (PRWEB) March 06, 2017
High winds uprooted a giant Fir tree and sent it crashing into a homeowner's vehicle and house in Huntingdon Valley, PA. Giroud Tree and Lawn responded quickly to the tree removal emergency because the tree was teetering precariously and presented a clear danger of slipping from its position and causing more damage.
Utilizing a tree service crew of three, Giroud rigged a large rope from a crane to the top and bottom of the fallen tree. The root ball was then cut from the tree to allow the crane to lift the whole Fir tree off the vehicle and home and into the street in one fluid motion. From there, Giroud's experienced tree care specialists made multiple cuts to allow each piece to smoothly run through the chipper. After cleaning up the fallen tree, a hazardous tree located nearby was also removed to eliminate the risk of it falling on the house and causing further damage to the property in the future.
Wind storms cause billions of dollars in damage in the US each year according to the National Storm Damage Center. "Wind damage can be very serious," said Giroud Tree and Lawn Vice President and ISA Certified Arborist, Drew Slousky." A large gust can cause all kinds of damage, from breaking off a few small branches to knocking over a tree like this one. Luckily we were able to get an emergency tree removal crew out quickly to help them get rid of the tree so they can start repairing their home."
A major factor in tree damage is wind resistance. Evergreens (Conifers), like Spruce, Pines and Firs, are at especially high risk for damage in the winter. With needles or leaves still attached to their branches, Evergreens are denser making it more difficult for the wind to blow easily through the tree. When wind speeds ratchet up, Evergreens can catch the gusts like a sail on a boat, increasing the chances of breaking, cracking, or being blown completely over.
Homeowners can help prevent wind damage by taking one simple step. Prune your trees. Pruning removes dead or weak branches and reduces wind resistance. For more information about emergency tree removals, visit https://www.giroudtree.com/emergency-tree-service
About Giroud Tree and Lawn:
Giroud Tree and Lawn specializes in tree service, tree removal and lawn care programs that make customers love doing business with the company since 1974. Serving Bucks, Montgomery and Philadelphia Counties, the company offers professional tree and lawn evaluation, tree pruning, tree removal, insect and disease control, fertilizing, stump removal and traditional and 100% organic lawn programs to keep lawns healthy and green. Giroud Arborists are certified by the International Society of Arboriculture (ISA) and have the knowledge and experience required to properly diagnose, treat and maintain trees and lawn health. The company is Accredited by the Better Business Bureau and has been awarded the Angie's List Super Service Award® every year since 2005. The "Giroud Treework for Charity" program donates free tree care services to parks, historical sites and other non-profit organizations located in the Company's service area. For more information, visit the company website at http://www.giroudtree.com or call 215-682-7704.