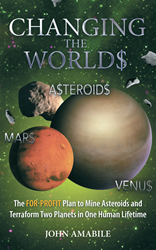 TAMPA (PRWEB) February 27, 2017
Space has been the final frontier in the realm of science fiction, but continues to hold potential for real-life possibilities. Author John Amabile presents a comprehensive plan on how to colonize outer space with existing resources and technology in one human lifetime in the book "Changing the Worlds."
The plan outlined in the book includes the process of terraforming Venus and Mars to make both planets habitable for human life. Amabile's military background has provided him with knowledge of the equipment and technology that the United States government already has as its disposal that could be repurposed to colonize space, mine for precious metals, and offer other benefits to humanity.
"Most books on this subject do not address the contradiction of stone-age property laws imposed on outer space," said Amabile. "Only by granting basic property rights can space be colonized."
Amabile's book proposes the creation of a "Space Corporation" comprised of democratic countries and their citizens willing to pool their resources and technology to colonize space and open new business opportunities to those who participate.
"Changing the Worlds" serves to open discussions on the practicalities and benefits of space colonization for continued growth and prosperity.
"Changing the Worlds"
By John Amabile
ISBN: 978-1-48080-717-4 (softcover); 978-1-48080-718-1 (eBook)
Available on Amazon, Barnes & Noble, and Archway Publishing
About the author
John Amabile, a West Point graduate, is a former Air Defense officer in the US Army who served in Iraq and Afghanistan. He is a captain in the Army Reserve and is attending graduate school in Florida.
###
Review Copies & Interview Requests:
LAVIDGE – Phoenix
Bryan Beach
480-998-2600 x 510
bbeach(at)lavidge(dot)com
General Inquiries:
LAVIDGE – Phoenix
Chris Pena
480-998-2600 x 519
cpena(at)lavidge(dot)com