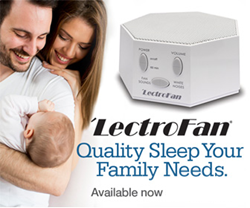 Our expansion into London Drugs stores will bring much-needed sleep solutions to people across western Canada
Campbell, CA (PRWEB) February 28, 2017
Adaptive Sound Technologies Inc. today announced its best-selling brand of LectroFan sound machines are available for purchase in London Drugs Ltd.'s 80 stores across Alberta, Saskatchewan, Manitoba and British Columbia.
"Our LectroFan white noise and fan sound machines have become the go-to products for the millions of people who struggle with falling and staying asleep," said Keith Washo, Adaptive Sound Technologies Inc.'s vice president of global sales and marketing. "Our expansion into London Drugs stores will bring much-needed sleep solutions to people across western Canada."
LectroFan
LectroFan features 10 fan and 10 white noise sounds to mask unwanted noises. With precise volume control, users can fine-tune the volume from a whisper to 10-times louder than competing fan machines, helping to create a sound barrier against disruptive noise.
LectroFan micro Wireless
LectroFan micro is a versatile, compact, dual-function device with wide volume ability. It features 10 sounds (5 fan sounds, 4 white noises and 1 ocean sound) for better sleep and sound masking, lasting up to 16 hours in sleep-sound mode at night. During the day, it's a portable wireless Bluetooth® speaker boasting six hours of battery life.
Availability
This additional expansion complements the company's growing list of Canadian retailers that sell the LectroFan brand. Both the flagship product, LectroFan, and the LectroFan micro, a portable, Bluetooth® speaker/sleep-sound machine, are available for purchase online through Best Buy, Amazon, Staples and at http://www.soundofsleep.com.
Throughout the U.S., LectroFan products are available online through major retailers including Amazon, Target, Walmart, BestBuy, Babies"R"Us (a division of Toys"R"Us) and Buy Buy Baby Inc.
For more information on LectroFan or Adaptive Sound Technologies Inc., visit http://www.soundofsleep.com.
About Adaptive Sound Technologies Inc.
Adaptive Sound Technologies Inc. is bringing relief to the estimated 50-70 million adults across America who need more consistent, quality sleep. Founded by industry leaders with diverse tech backgrounds, the Silicon Valley company is improving how people fall asleep with top-selling brands, Sound+Sleep and LectroFan. Learn more at http://www.soundofsleep.com.