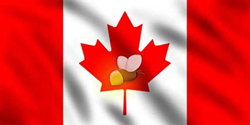 Staten Island, NY (PRWEB) February 24, 2017
FireflySci, Inc is an explosive small business that continues to grow at an exponential rate. Founded in late 2014, FireflySci had the goal of bringing their powerful cuvette and spectrophotometer calibration to the spectroscopy world. Now in 2017, that goal continues to shape the path that FireflySci is going on as they add yet another mark on the global map.
With distributors in almost every major world country, there was one location that needed to have a FireflySci base established. The most logical place for FFS to set up their new shop was in the country that has an untapped resource of a wealth of laboratories and genius scientists. This place is America's neighbor to the north, Canada.
The main focus of FireflySci Canada is the production and inspection of FireflySci's famous spectrophotometer calibration standards. The new facility in Canada will be the main hub where all of FireflySci's calibration and recalibration work is done. NIST spectrophotometer calibration standards will be made and calibrated in a state of the art laboratory that has all the best equipment on hand.
This alliance is critical for the work that FireflySci USA has worked so hard to accomplish. The new FireflySci USA and FireflySci Canada consortium will allow FFS USA to meet the increasing demand on their calibration department. The tremendous growth has been accredited to FFS using special materials for their calibration standards that never require recalibration due to material aging. In 2016 alone, FFS has seen a 20% growth in their calibration sales and recalibration services.
FFS will also continue on the FFS tradition of superb customer service. FFS has established the reputation on not only having the best spectrophotometer calibration standards in the world, but also the best customer service. The service reps from FFS are really the key to their worldwide success. Each call is answer by a real person, who is courteous and knowledgeable. They provide customers with a friendly experience and fast delivery on their orders.
There is no doubt that FFS Canada will be a huge asset to the FFS network. With the additional support of FFS Canada FFS will have the support they need to further extend their cuvette and spectrophotometer calibration reach.
For more information visit http://www.fireflysci.com.