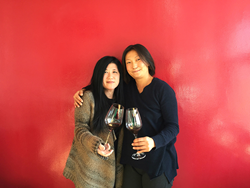 The diverse group of producers struck me with their strong passion and high quality of wine.
Verona, Italy (PRWEB) February 25, 2017
"It was quite an experience going around wineries and meeting regional officers" explains Stevie Kim. "The diverse group of producers who are aiming at the highest quality of production, struck me with their passion and the quality of their wine. My visit was full of surprises and I learnt a lot about the region: for example how harsh the natural conditions are, how female producers have become the leading figures in pushing the quality higher, and how ambitious are the region's plans to push the industry forward. This also made me realize the importance of "being in the terroir" once again".
No one would imagine that 1000 km West of Beijing, right beside the Gobi desert of Central China, there is a vast amount of land lying there dedicated to grape cultivation and winemaking. With millions of dollars of investment pouring in, this is the heart of "the new world of the new world" wines: Ningxia wines. China has always been regarded as a potential wine market, but what we can't miss now is that it has also become the 5th largest wine producing country in the world, and Ningxia is undoubtedly the fastest growing area. It has grown into a wine region with currently over 80 wineries, and many more in development. The intention is to plant 67,000 Ha of vineyards, building up to total of 100 estates in the region by the year of 2020. That is a very ambitious plan.
The female producers are taking the lead. Emma Gao, winemaker and owner of the Silver Heights winery, after many years of studying and working in France, returned to her homeland with a few French barrels and tools to pursue winemaking here. With the knowledge she gained, and the use of French grapes, her wines scream Bordeaux. Now her high quality French style wines are regarded as the best of Ningxia wines. Emma and her French husband will soon introduce a new line of wine that is not too expensive but still high in quality, catering the growing middle class of China.
On the other hand, there is Yuan Yuan from Chateau Zhihui Yuanshi also called Stone Winery. Fresh out of university where she studied tourism, the 24 year old took over the winery from her father with high ambition to incorporate more of the original Chinese, moreover "Ningxia" elements to the winery. Her father has created a winery that looks like an old Chinese castle, and decorated inside with art made by Chinese artists.
When you look at the consumer's side, the Chinese market is dominated by the perception that imported wine is better. The hype for French wines is still very strong. However, consumers are slowly recognising and starting to enjoy their own Chinese wine, and this is an important trend that we must keep an eye on. This is because it is only after consumers start to appreciate their local wines, that the doors will open for wines from other parts of the world.
"That is why when looking at new markets, it is always important to be up to date not only with the consumer's preference and tendencies but with what is going on the production side" Stevie Kim goes on to explain. "Who are these Chinese wine producers? Where are they making their wines?".
Recently Chinese consumers have increasingly become health conscious, and people are being introduced to the health benefits of wine. Female consumption is growing, and they are appreciating the lower alcohol level compared to their traditional drinks such as Baijiu. The up rise of semisweet and rose wine production in Ningxia is known as the proof that wine has become tremendously popular among female consumers.
"The Chinese are very good at localizing the wine culture. They do it by simplifying and adapting it to what they already have" continues Stevie Kim. For example, at one of the wine exhibition centers, there are rooms named after grape varieties translated completely into Chinese. They are very eager to understand the culture, and then integrate it into theirs.
"One thing I've realized is that most of the influences they have is from the French. They regard French wine as the best and are French wine lovers. What ran through my mind was "what if we were able to get them to come to Italy more often?". In order to sell more Italian wines in the Chinese market, we need to have more Italian wine lovers. That is why we initiated a wine exchange program with the local wine bureau which will allow us to deliver quality Italian wines to China and the wines will be promoted together with Ningxia wines".
Vinitaly International Academy will be celebrating its 3rd year of providing a wine certification course exclusively dedicated to Italian wine and its native grapes. This allows wine specialists from all over the world to be able to become an ambassador for Italian wine in their countries. VIA is expecting 15 specialists from China this year. "When you look at international credentials, for example 90 percent of the material you have to study for WSET is about French wine, not much about Italian Wine" says Stevie Kim. "We would like to have wine lovers all around the world to have a broader view about wine. French are good, but Italian are… more fun!"
For more information about the press release please write to media(at)vinitalytour(dot)com
About:
VeronaFiere is the leading organiser of trade shows in Italy including Vinitaly (http://www.vinitaly.com), the largest wine and spirits fair in the world. During its 50th edition Vinitaly counted more than 4,100 exhibitors on a 100,000 square meter area and 130,000 visitors including more than 2,600 journalists from 46 different countries. The next edition of the fair will take place on 9-12 April 2017.
The premier event to Vinitaly, OperaWine (http://www.vinitalyinternational.com) "Finest Italian Wines: 100 Great Producers," will unite international wine professionals on April 8th in the heart of Verona, offering them the unique opportunity to discover and taste the wines of the 100 Best Italian Producers, as selected by Wine Spectator. Since 1998 Vinitaly International travels to several countries such as Russia, China, USA and Hong Kong thanks to its strategic arm abroad, Vinitaly International. In February 2014 Vinitaly International launched an educational project, the Vinitaly International Academy (VIA) with the aim of divulging and broadcasting the excellence and diversity of Italian wine around the globe. VIA's certification courses is currently the gold standard for Italian wine, with the aim of creating new Ambassadors of Italian Wine in the World.