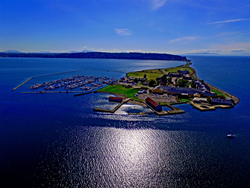 "Once visitors have the 'Semiahmoo Experience,' they often decide to make Semiahmoo their boating home," says Romano
Blaine, WA (PRWEB) February 28, 2017
Semiahmoo Resort Marina shares the tip of Semiahmoo Spit with Semiahmoo Resort. With nearly 360-degree views of water and mountains, recreational activities on the unique peninsula are rapidly expanding as the new boating season gets underway. Starting right now, marina officials are launching their 'First Time' campaign, where any boater with a boat of at least 28' in length, can reserve a two-night stay absolutely free.
"When a boat broker brings a client to the marina, the buyer is always struck by the beauty of the area and the cleanliness of the marina itself," says Harbormaster Doug Romano. "More often than not, we find that once visitors have the 'Semiahmoo Experience,' they often decide to make Semiahmoo their boating home," he says.
Boaters from Canada and the U.S. who own vessels of at least 28' in length can reserve a spot at Semiahmoo Resort Marina by calling (360) 371-0440 during normal business hours or clicking the 'Guest Moorage' tab at the marina website: SemiahmooMarina.com
About Semiahmoo Resort Marina
Semiahmoo Resort Marina is the Northwest's premier destination marina. With 300 slips nestled between the San Juan Islands to the south and the inland waters of British Columbia to the north, boaters will find that Semiahmoo's breathtaking surroundings, generous amenities, and recreational opportunities provide an unparalleled boating experience.