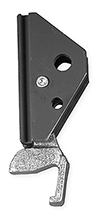 With the new high-performance head assembly trigger mechanism, beam adjustment tool and Train the Trainer Program, users will find our system more valuable than ever. – Paul Wolford
NASHVILLE, Tenn., USA (PRWEB) February 27, 2017
Kinedyne LLC, a world-leading manufacturer and distributor of cargo control products for the transportation industry, announced that it will display a redesigned head assembly trigger mechanism and beam adjustment tool for its Kaptive Beam Decking System at the 2017 TMC Annual Meeting & Transportation Exhibition in Nashville, Tenn. In addition, the company is publicizing a free Train the Trainer Program, designed to help maximize the value of all Kaptive Beam Decking System owners.
Kinedyne's Kaptive Beam Decking System enables fleets to increase their profits, by increasing trailer load capacities by as much as 50 percent. With Kaptive Beam, fleets can immediately reduce run schedules and the number of tractors, trailers and drivers required to move freight, all while significantly improving the capacity of every load a fleet moves.
"Through research, field testing and a focus on continuous improvement, we've made the Kaptive Beam Decking System even better," Paul Wolford, vice president of sales and marketing for Kinedyne LLC, said. "With the new high-performance head assembly trigger mechanism, beam adjustment tool and Train the Trainer Program, users will find our system more valuable than ever."
The new head assembly trigger profile interfaces with the revised, grooved head design of the beam adjustment tool, making the system's operation much more smooth and efficient. The trigger now features an angled lip that enables the beam adjustment tool to make a more secure connection, making locking, unlocking and adjustment of beam height easier.
The system's foot and guide shoe components are made of rugged anodized aluminum, and the locking pawl is made of steel. Head assemblies with the new high-performance locking trigger design can be purchased separately and can replace existing head assemblies on any older K2 model Kaptive Beam Decking System.
The beam adjustment tool has also been lengthened to 54 inches and now comes with a convenient storage mounting bracket. The tool is used to raise and lower the individual beams and is designed to enable the user to reach and manipulate the beams whether they are already deployed or stored at the ceiling height of the trailers they serve.
Kinedyne currently offers a service to all existing and prospective Kaptive Beam customers to help accurately assess needs before purchase and to assure maximum ROI after purchase. The Kinedyne Solutions Team, a group within the Kinedyne organization, is now offering a Train the Trainer Program for fleets that purchase the Kaptive Beam Decking System.
Kinedyne's Train the Trainer Program is designed to provide a fleet's employees with all the necessary skills and values to ensure compliance with operating guidelines. The program is also structured to lower recurring maintenance costs, improve employee confidence in the Kaptive Beam investment and help fleets net a higher yield from all the benefits of the system.
The newest K2 model Kaptive Beam Decking System, with its redesigned head assembly trigger mechanism and beam adjustment tool, is available through Kinedyne's extensive distribution network which includes thousands of outlets across the U.S. and Canada. Users can find distributor locations near them by calling Scott Frazier, national account manager for Kaptive Beam sales, at (908) 285-3528.
To access high-resolution product images of the redesigned head assembly trigger mechanism for the Kaptive Beam Decking System, please visit: http://www.kinedyne.com/products/349/replacement-parts.html
About Kinedyne LLC
Founded in 1968, Kinedyne LLC is a world-leading manufacturer and distributor of cargo control products for the transportation industry. The Company maintains a substantial market share in a variety of industry sectors, and is known for the development and engineering of high-quality equipment; it holds multiple patents for many of its innovative products. Kinedyne serves a broad range of users, which include OEMs, fleets and independent owner-operators, across a wide variety of markets, including heavy-duty trucking, government, military, agriculture, automotive, recreational vehicle, moving and storage. Kinedyne's world headquarters are located in Branchburg, New Jersey, and the Company has affiliates strategically located around the globe, including Kinedyne Canada Limited in Canada, Nantong Kinedyne Limited in China and Sistemas Kinedyne, S.A. de C.V. in Mexico. Read more about Kinedyne LLC at: http://www.kinedyne.com. In 2013, Kinedyne was acquired by The Heico Companies LLC, a parent holding company with revenue of over $2 billion and a diversified portfolio of over 36 businesses involved in manufacturing, construction and industrial services. Read more about The Heico Companies LLC at: http://www.heicocompanies.com.
Kinedyne and Kaptive Beam Decking System are registered trademarks of Kinedyne LLC.