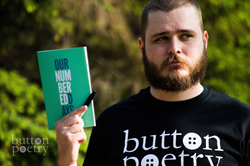 "When you have Obsessive Compulsive Disorder, you don't really get quiet moments."
Minneapolis, MN (PRWEB) February 28, 2017
If poetry is dead, the zombie apocalypse is upon us. Since its launch on February 16th, a video of Neil Hilborn's poem "OCD" has gone viral on Facebook, getting over 30,000,000 views and over 400,000 shares thus far. The video rocketed Hilborn's book, Our Numbered Days, which is available from Amazon, Barnes & Noble, Chapters (in Canada), your local independent bookstore, and Button Poetry's website, to the top 25 overall on Amazon, #2 in print poetry and #1 in poetry e-books.
The video chronicles a story of love and loss through the lens of the author's sometimes-debilitating mental illness, moving from humor to heartbreak in less than three minutes.
Alongside the poem's blow-up, Hilborn's debut book, Our Numbered Days, climbed the charts on Amazon, joining Rupi Kaur's milk and honey as the only two contemporary poetry books in the top 100. In Our Numbered Days, Hilborn uses the same humor, self-deprecation, and vulnerability of "OCD" to address his broader struggles with mental health and the societal stigma around it, against a backdrop of trying to find love and companionship in an increasingly alienating/isolating world.
About the Author: Neil Hilborn is one of the most-viewed performance poets of all time. He has performed in 39 states and 4 countries, and in 2016 alone he traveled more than 50,000 miles to perform his poetry. Originally from Houston, Texas, he now lives in Saint Paul, Minnesota.
About the Publisher: Button Poetry is a multimedia poetry publisher and distributor. In the last three years, Button Poetry videos have been watched over 200,000,000 times by viewers across the world. Button Poetry is the indie publisher of 13 books of critically acclaimed poetry, including Neil Hilborn's forthcoming sophomore book, The Future.
Link to Video: http://facebook.com/ButtonPoetry/videos/1339775369413338/
Link to Book: https://www.amazon.com/Our-Numbered-Days-Neil-Hilborn/dp/0989641562/
For more information, contact Sam Cook at press(at)buttonpoetry(dot)com or 303-517-0784
###