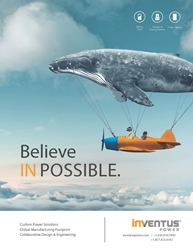 "As we continue to celebrate the formation of Inventus Power and the enhanced capabilities offered, we are proud to build a brand that communicates to our customers and the industry at-large that we are an experienced, innovative and global partner."
WOODRIDGE, Ill., (PRWEB) February 24, 2017
Inventus Power, a global designer and manufacturer of battery packs, chargers and power supplies for the consumer, commercial, medical and military markets, today announced it launched a new multi-platform branding and advertising campaign, encouraging global OEMs to "Believe in Possible" when searching for a power systems supplier for their devices.
Inventus Power, which was created through the merger of ICCNexergy and Palladium Energy, is the leading single-source manufacturer for rechargeable power systems, consistently delivering safe, reliable, high-performing batteries, chargers and power supplies that enhance the design of OEM products. The "Believe in Possible" tagline and advertising creative were developed by Modo Modo Agency of Atlanta, GA. The messaging communicates to OEMs to not compromise on their specific needs because the perfect power solutions provider seems unattainable, but rather believe in what is possible. Inventus Power is capable of meeting the demanding and unique requirements of global brands, "any region, any market, any power solutions requirement...Inventus Power."
"As we continue to celebrate the formation of Inventus Power and the enhanced capabilities offered, we are proud to build a brand that communicates to our customers and the industry at-large that we are an experienced, innovative and global partner," said Jeffrey VanZwol, Vice President of Business Development and Marketing for Inventus Power. "With our comprehensive technology portfolio and proven manufacturing processes, we are able to meet the stringent power demands for leading OEMs as they design increasingly complex devices with unique power needs."
About Inventus Power:
Inventus Power, founded in 1960, is the world's largest power systems manufacturer that integrates and delivers battery packs, chargers & docking stations and power supplies across the consumer, commercial, medical and military & government markets and is located in ten countries across four continents.
With headquarters in Woodridge, Ill. and manufacturing facilities in the United States, Mexico, Brazil, China and Malaysia, we are globally positioned to be a catalyst for our customers' success. Inventus Power utilizes decades of design, engineering and market expertise to apply innovative technology to our OEM customers' devices, and ensures a reliable, high quality product through our vertically integrated processes and performance testing capabilities. For more information about Inventus Power, please visit http://www.inventuspower.com and follow @inventuspower.
###