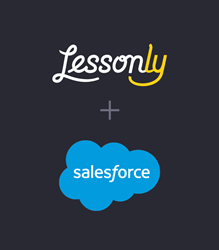 Lessonly's integration with Salesforce is a huge step forward in our mission to make an LMS every sales team can benefit from." — Max Yoder, Lessonly CEO
Indianapolis, Indiana (PRWEB) February 28, 2017
Lessonly today announced it has launched Lessonly for Salesforce on the Salesforce AppExchange, enabling businesses to connect with their customers, partners and employees in entirely new ways. Current sales enablement and learning solutions do not keep pace with the constantly evolving needs of growing, ambitious sales teams. Lessonly's modern learning software addresses this need for more than 525,000 learners at more than 325 companies. By integrating with Salesforce, sales leaders will more easily empower their teams with the knowledge they need to close more deals while measuring ROI on learning efforts.
Built on the Salesforce Platform, Lessonly for Salesforce is currently available on the AppExchange.
Lessonly for Salesforce Key Features
Lessonly streamlines and simplifies the creation and consumption of sales enablement and learning content—and the measurement and reporting of its impact on individual and team performance—all within the Salesforce interface. The integration offers the following features:

Smooth Workflow: Learning activity occurs directly within the environment that sales teams are comfortable with and already spend 50 to 60 percent of their time. This leads to more rapid adoption of learning technology.
Streamlined Content Creation: Managers and top performers quickly and easily create and share performance-driving content (including sales strategies, best practices, and thought leadership) with their reports and peers, improving consistency and performance across the team.
Guided Learning: Customizable user actions trigger guided, in-context learning recommendations through Salesforce Sales Paths (available only through Salesforce Lightning), ensuring reps receive the right information exactly when they need it to move deals forward.
Custom Reporting: Sales, enablement, and operations managers see directly how learning and enablement content drives rep performance, team outcomes, and overall business objectives.
"Learning is most potent when it's in the context of a salesperson's natural workflow, helping them solve problems in their moments of need." said Lessonly CEO Max Yoder. "This integration with Salesforce is a huge step forward in our mission to make an LMS every sales team can benefit from."
"Companies are looking to transform the way they connect with customers, partners and employees to thrive in the age of the customer," said Kori O'Brien, SVP, App Innovation Partner Sales, Salesforce. "By leveraging the power of the Salesforce Platform, Lessonly provides customers with an exciting new way to build and measure learning efforts and their effect on the overall business."
About Salesforce AppExchange
Salesforce AppExchange is the world's leading enterprise apps marketplace that empowers companies to sell, service, market and engage in entirely new ways. With 3,500 partner apps and more than 4 million customer installs, it is the most comprehensive source of cloud, mobile, social, IoT and data science technologies for businesses.
About Lessonly
Lessonly is modern learning software used by more than 525,000 learners at more than 350 companies to translate important work knowledge into Lessons that accelerate productivity. Sales teams across the world use Lessonly to reinforce best practices, accelerate rep performance, and close more deals. Support teams across the world use Lessonly to serve customers faster, drive consistent support, and elevate the customer experience. Follow Lessonly on Twitter at twitter.com/lessonly. http://www.lessonly.com/salesforce
Additional Resources

Salesforce, AppExchange and others are among the trademarks of Salesforce.com, inc.