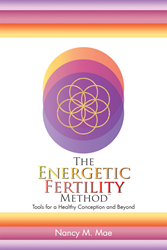 SAN FRANCISCO (PRWEB) February 27, 2017
A Berkeley-based energy medicine expert has released her step-by-step guide to preparing for a healthy conception. "The Energetic Fertility Method™," by Nancy M. Mae, utilizes the principles of energy medicine and applies them to fertility, offering readers who have been diagnosed with some forms of infertility an alternative path to healthy conception.
Approximately 12.3 percent of women aged 15-44 in the U.S. have an impaired ability to get pregnant or carry a baby to term, according to the Centers for Disease Control and Prevention. In "The Energetic Fertility Method," Mae, who overcame a diagnosis of unexplained secondary infertility through energy medicine methods, instructs readers on how using the chakra system can help them to gain a deeper awareness of their bodies, minds and spirits, ultimately paving the way to motherhood.
"My journey with infertility challenged me to my core. Infertility is not something that people talk about – it tends to be an elephant in the room," Mae said. "Recognizing how much energy medicine helped me on my own fertility journey, I knew I wanted to write a book so that more people would have access to this type of information. 'The Energetic Fertility Method' grants people this access."
Mae's rigorous academic training in both clinical and cognitive psychology coupled with her extensive work in energy medicine, yoga and mindfulness presents readers with a knowledgeable approach to struggles with infertility. "The Energetic Fertility Method" also encourages readers to apply its principles in preparation for other new chapters in life, such as starting a business or making a major career change.
"The Energetic Fertility Method™"
By Nancy M. Mae
ISBN: 978-1-504-36246-7 (hardback); 978-1-504-36244-3 (paperback); 978-1-504-36245-0 (electronic)
Available at the Balboa Press Online Bookstore, Barnes & Noble and Amazon
About the author
Nancy M. Mae is a life transitions coach and energy practitioner, and she holds a Master of Science degree in cognitive psychology and a Master of Arts degree in clinical psychology. Currently residing in Berkeley, Calif., Mae is available for speaking engagements and offers one-on-one coaching sessions on her website http://www.nancymae.com.
###
Review Copies & Interview Requests:
LAVIDGE – Phoenix
Danielle Grobmeier
480-998-2600 x 614
dgrobmeier(at)lavidge(dot)com
General Inquiries:
LAVIDGE – Phoenix
Maggie Driver
480-998-2600 x 584
mdriver(at)lavidge(dot)com