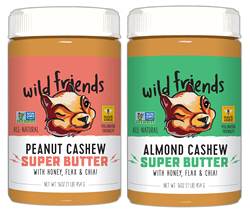 We believe that food should be fun, and that combining on-trend 'add-ons' like organic clover honey, chia, and flax with our delicious nut butters makes healthy eating a celebration, not just a chore.
(PRWEB) March 02, 2017
Wild Friends Foods today announced the launch of Super Butters at Natural Products Expo West. Two new delicious nut butter blends with honey, chia and flax, Almond Cashew Super Butter and Peanut Cashew Super Butter have what parents want: Mintel reports that a majority of parents want nut-based spreads that also offer health benefits (1). Wild Friends is breathing life into a category in need of innovation with the imaginative Super Butters, exciting blends with only simple ingredients that provide fiber, protein, and Essential Fatty Acids (EFAs).
Wild Friends Foods, a challenger brand, recently closed a $1.4 million dollar fundraising round through investment marketplace CircleUp. Wild Friends CEO and Co-Founder Keeley Tillotson will speak on Wednesday, March 8 at "Natural Products Business School" at Expo West on the panel, "Demystifying the F Word: Navigating the Funding Roadmap" at 2:10pm in the Marriott Marquis Ballroom.
"Wild Foods is on a mission to make food more friendly, which means creating products with clean and clear labels that taste great," said Tillotson. "After double-digit distribution growth last year in both Natural and Conventional, our friendly formulas are now on thousands of grocery shelves (2). We believe that food should be fun, and that combining on-trend 'add-ons' like organic clover honey, chia, and flax with our delicious nut butters makes healthy eating a celebration, not just a chore."
The creamy Peanut Cashew and Almond Cashew blends pack a protein punch with 6 and 7 grams per serving respectively and are low in sugar (3 grams per serving), using only the natural sweetener of pollinator-friendly organic clover honey. Starting with a base of either Peanut Cashew Butter or Almond Cashew Butter, the new Super Butters, like all Wilds Foods products, are free from preservatives and contain no Palm Fruit Oil. The addition of chia and flax add Omega-3 Essential Fatty Acids and antioxidants to the blends, as well as increasing their total amount of fiber and protein. Nut butter consumers desire more innovation from this household staple, and added protein and superfoods top the list of sought-after benefits (3).
"We named our new blends 'Super' for a reason," said Wild Friends CMO and Co-Founder Erika Welsh. "Our fans on social media often use Wild Friends blended with chia, flax and other 'good-for-you' goodies in their smoothies, oats, and toasts, so we crafted our own ready-to-eat versions to make their lives easier and more delicious. Our fans are super humans, so it made sense to make Super Butters for them. Keeley and I are growing our business with our consumers in mind every step of the way; this strategy allows us to channel their passion into momentum for the brand, bringing new investors, retailers and partners into the Wild Friends family."
To engage in combating bee colony collapse, Wild Friends partnered with honey supplier Glory Bee Foods to donate a percentage of sales to the "Save the Bee" social program, directly supporting organizations dedicated to saving the honey bee. The goal of "Save The Bee" is to increase the awareness of the role and impact honey bees have on a healthy food supply. Wild Friends Peanut Cashew and Almond Cashew Super Butters will be available to ship in May 2017. Wild Friends currently offers a unique range of products, including flavors like Chocolate Coconut Peanut Butter and Organic Honey Sunflower Butter. Look for Wild Friends fun and friendly products in the nut butter aisle at retailers across the U.S., including Target, Publix and Sprouts.
About Wild Friends Foods
One rainy day at the University of Oregon, Keeley Tillotson and Erika Welsh were in their college apartment, scraping the bottom of yet another empty jar of peanut butter when they decided to try their hand at making their own. That day, Wild Friends was born. Less than a year later, they left their college lives behind to pursue their nut butter and #girlboss dreams. Since its start in 2011, Wild Friends has launched dozens of new flavors of nut and seed butters that are sold in thousands of stores across the country. Through all these changes, one thing has stayed the same: their passion for delicious products made with the healthiest wholesome ingredients. Tillotson and Welsh were named to Forbes' 2016 "30 Under 30" Class.
Join the conversation with @wild_friends on Instagram, Facebook and Twitter.
1 Mintel, Nut-based Spreads and Sweet Spreads - US - March 2015
2 SPINS/IRI 52 weeks ending 1/22/17
3 Mintel, Nut-based Spreads and Sweet Spreads - US - March 2015