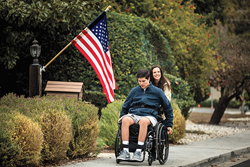 We needed to give Jake's story time to develop and really share how brave and pioneering he is.
Walnut Creek, CA (PRWEB) March 01, 2017
In June 2016, on the day before his high school graduation, nineteen-year-old Jake Javier suffered a terrible diving accident that left him paralyzed. The incident was covered widely across Bay Area news media and residents quickly mobilized to support Jake and his family. In the March issue of Diablo Magazine, Senior Editor Pete Crooks revisits the story of Jake's bravery and trailblazing medical care.
Crooks caught up with Jake and his parents to discuss life after the accident and explore the life-saving treatments he received at John Muir's Walnut Creek Medical Center and Santa Clara Valley Medical Center. As part of his therapy, Jake participated in a groundbreaking stem cell procedure by the California Institute for Regenerative Medicine in Oakland. Jake was one of five people in the world to receive an injection of 10 million embryonic stem cells.
"This story needed to be revisited." says Crooks. "Diablo magazine is the town square of the East Bay, and we needed to give Jake's story time to develop and really share how brave and pioneering he is."
The article details the days and months following the accident and how the community rallied around Jake. Friends, classmates and even strangers joined forces to organize fundraising drives and provide support for the Javier family. To read about the incredible support from the community, Jake's plans for a future as a college freshman, and view a link to support Jake through the JaviStrong54 Foundation, visit diablomag.com.
About Diablo Magazine
Covering topics ranging from travel, culture, and personalities to entertainment, recreation, and food, Diablo magazine is written specifically for the San Francisco East Bay market—from Central Contra Costa, into the Oakland and Berkeley hills, and throughout the Tri-Valley. With locally driven editorial content, beautiful photography, and resource listings, Diablo is a unique celebration of the San Francisco East Bay. Published since 1979, Diablo has been recognized for its editorial and design with numerous awards, including previous Maggie Awards for Best Overall Publication and Best Regional and State Magazine in the consumer category.
About Diablo Publications
For 35 years, Diablo Publications has been creating award-winning publications, including Diablo magazine, Napa Sonoma magazine, Diablo Weddings, the Oakland Visitors' Guide, Diablo Arts, and the Tri-Valley California Visitors Guide. Covering travel, theater, lifestyle, and home design, Diablo Publications celebrates the people, places, and pleasures of the East Bay and North Bay. Diablo Publications' custom content division, Diablo Custom Publishing (DCP), provides complete print and online marketing communications and customer publishing services for corporate clients nationwide. For more information, visit diablomag.com or dcpubs.com. Diablo Publications is an employee-owned company.