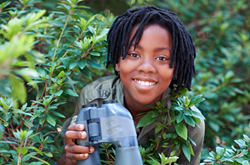 Chattanooga, Tenn. (PRWEB) February 24, 2017
#SpringBreakSafariCHA // @ChattanoogaFun
During Chattanooga's Spring Break Safari, the city is transformed into a place where kids rule and adventure is everywhere. From March 10-April 9, 2017, Chattanooga's attractions are offering special scavenger hunts and experiences where kids can be pirates, island explorers, sword fighters, rockquest adventurers, spelunkers, and more.
Kids can't resist exploring the world with lots of hands-on activities designed just for them. The participating attractions are offering special experiences that can only be done Friday, March 10-Sunday, April 9, 2017.
While on Spring Break Safari in Chattanooga, kids can be a Pirate aboard a riverboat; Sword Fighter on a quest to see the Queen; Conductor and travel the rails; Island Explorer and meet the brand new lemurs; Speleologist deep within a cave; Zookeeper and encounter some of nature's wildest creatures; Rock Climber and scale boulders; RockQuest Adventurer on an enchanted trail; Art Explorer and uncover hidden treasures; Inventor and create new things; or an Artisanal Adventurer and learn about cooking techniques.
Families can discover more about Chattanooga on an exciting Scavenger Hunt! Explore the city and complete each Scavenger Hunt at your own pace. Solve the clues together or if you get stuck, you can ask someone at the attraction or check out the answers at the end of the guide. Kids will receive special prizes when they show images of the found items to employees at the attractions for both hunts.
Be sure to get a free Spring Break Safari Guide that can be downloaded online (now!) or picked up at any of the participating Spring Break Safari attractions, Chattanooga Visitors Center located at 215 Broad Street, SpringHill Suites by Marriott/Downtown Cameron Harbor, Chattanooga Choo Choo, or The Chattanoogan Hotel. The guide includes details on the Safari Attractions and the Scavenger Hunt.
Get the full scoop on planning a Chattanooga Spring Break Safari at http://www.chattanoogafun.com/spring.
###