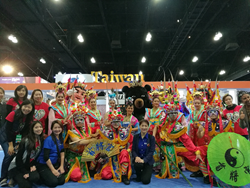 (PRWEB) February 23, 2017
The annual Los Angeles Travel & Adventure Show took place the weekend of February 18-19 at the LA Convention Center. This year, the Taiwan Tourism Bureau specially invited chef Gabe Kennedy, the season 3 winner of ABC's cooking competition series "The Taste," to the Taiwan Pavilion and shared his experience of Taiwan's gourmet culture. Gabe was invited to explore Taiwan's Aboriginal tribes, organic tea farm, fishing village, and other local destinations in November of last year. He was very impressed with the healthy flavors of Taiwan's Farm to Table cooking; the diverse culinary culture from breakfast to supper and with dishes from street food to banquet dishes are particularly amusing to him. He was also deeply touched by the warm hospitality of the local people. Gabe demonstrated at the Taste of Travel stage of some unique dishes inspired by his Taiwan trip, showcasing Taiwanese style oyster omelet and pork belly bun with an American touch.
Reputed travel agencies such as Allstate Travel, Gala Holidays & Tours, SITA World Tours, and Super Value Tours were invited by the Bureau to offer exquisite gourmet, culture, in-depth and luxury tour packages tailored for travelers who crave great destinations and dishes. The Bureau has also prepared a variety of activities to promote Taiwan tourism. Director Oh!Bear visited the event in style, dressed in his nature tour guide outfit to take photos with booth visitors. A limited edition of the "magnificent rooster" lanterns -- curiously designed to transform between egg and chicken -- were handed out to visitors. An incredibly captivating cultural dance performance was presented by the STC foundation; Ten Ren Tea served authentic bubble milk tea to the event goers and altogether two round trip tickets were given away by China Airlines and EVA Air along with other exclusive discounts from travel agencies at the Taiwan Pavilion.
Please log on to our Tour Taiwan Facebook fan page at http://www.facebook.com/TourTaiwan for the most updated Taiwan tourism information and event details!