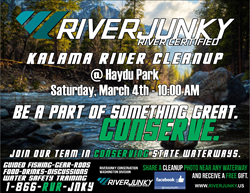 Kalama, Washington (PRWEB) February 24, 2017
It was the perfect summer day for fishing on the Kalama River when local fisherman Jarrod Kirkley, 33, reeled in a stunning steelhead. What he found next totally ruined the moment: sticking out of the fish was a used hypodermic needle. Sickened by the find Kirkley got to thinking about what he could do to clean up and conserve his beautiful playground: a new river conservation program was born. Welcome RiverJunky Washington, a river-certified waterway conservation 501 (c) (3).
Kirkley expects around 200 volunteers at the Kalama River conservation efforts which will convene at the Port of Kalama's Haydu Park at 10 a.m. on Saturday, March 4. Teams of 7 to 10 volunteers will be dispersed to areas along the Kalama River for clean-up. The organization supplies all trucks, trailers, garbage bags, gloves and hand sanitation. The Port of Kalama will provide industrial dumpsters to haul off the final collection of debris and trash.
Interested volunteers are encouraged to call 1-866-RVR-JNKY to participate or just show up on Saturday. RiverJunky rewards all volunteers with free gifts, raffle prizes and a hosted meal for all after.
"I've literally been fishing since I was two years old and I got so tired of angling in what was becoming a wasteland—I knew I had to do something to help clean up the situation," says Kirkley, a third generation construction professional with his family's Beavercreek Construction Company in Castle Rock, Washington. "My goal is to raise the awareness of others who care about our rivers and continue to build a volunteer base to carry on these important conservation efforts."
Kirkley, who lives in Silverlake, calls his nonprofit 'the world's first river way garbage clean-up service' and is determined to reduce the impact of trash and debris on the river ecosystem. Since September Kirkley has organized thousands of volunteers and attracted 25,000 followers to his website and social channels. His local efforts have cleaned up several Pacific Northwest waterways including the Cowlitz River and Puyallup River; and his conservation model has been replicated now in states as far away as New York.
"Our motto is 'if one person is cleaning up trash it makes our world one times better; but if 100 people are cleaning up trash it makes our world 100 times better!" says Kirkley. "We really appreciate all of our volunteers who join in these important endeavors."
RiverJunky is a nonprofit organization funded from public donations and sponsorships like Dick's Sporting Goods, Starbucks, Lamiglas and many others. All product proceeds go directly to river conservation.
About Port of Kalama – Where rail and water meet:
The Port of Kalama is located in Southwest Washington on the Columbia River and immediately off of Interstate Highway 5. The port exists to induce capital investment in an environmentally responsible manner to create jobs and to enhance public recreational opportunities. Port of Kalama's industrial area includes five miles of riverfront property adjacent to the 43' federally-maintained deep draft navigation channel of the Columbia River. The Port is served by the Burlington Northern/Santa Fe and Union Pacific railroads. There are over 30 businesses located at the Port of Kalama, employing over 1,000 people. Port of Kalama offers all the superior facilities businesses need to thrive, and an unsurpassed quality of life. The port offers shovel ready sites, a new Industrial Park, state of the art Marine Terminals and transportation accessibility to rail and highway all just a 30 minute drive to the Portland International Airport. Port of Kalama also offers high-bandwidth communications, with dual access fiber-optic service to Seattle and Portland. Properties currently available at the port for businesses wishing to expand and thrive: Visit http://portofkalama.com/available-properties/.
Contact: Liz Newman, marketing manager, Port of Kalama, 360-673-2379 or Claudia Johnson, PR, 503-799-2220.