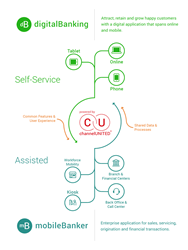 We encourage our clients to think broadly about digital transformation as a strategy that includes both customer facing and employee facing interaction points. - Marc DeCastro, IDC
Charlotte, NC (PRWEB) February 28, 2017
The idea of "omni-experience" is often repeated, infrequently understood, and only rarely successfully implemented. Across industries, delivering an experience across expanding access points with which consumers regularly engage presents a significant challenge. Even worse—many vendors claiming to tackle the challenge only address a couple of channels that comprise the holistic consumer experience. Not Zenmonics.
Zenmonics has recently migrated two additional financial institutions onto their latest production release of its flagship platform channelUNITED®. This solution has been designed from Day 1 to encompass all self-service and assisted access points, giving financial institutions a single path to fully implement their digital transformation strategy.
Key benefits of the channelUNITED® r7.0 release include:

Customer can choose where, when, and how they want to interact with the bank.
Complete enterprise contact history across online, mobile, branch, advisory, kiosk, call center to eliminate repeating oneself.
Integrated frictionless account origination and funding options, including fast-track option.
Service requests that automatically generate cases across channels, reducing paper and calls.
Personalization of seamless guidance from embedded PFM content and Favorites.
Full-feature Teller platform that is integrated to your self-service applications.
Reduced point solutions and costly licensing, integration and upkeep.
Digital channel services with over 350+ RESTful services.
Each element of the latest channelUNITED® release drives the importance of strong user experience across all channels, even those that don't immediately come to mind when discussing digital experience, like the bank branch and call center.
In a new white paper sponsored by Zenmonics, IDC focuses on the impact of this expanding need on banks, which must deliver a truly omni-channel experience without sacrificing the relationship fostered by in-person interactions of the traditional bank branch.
The white paper, titled "Importance of the Branch in a Mobile-First Digital Strategy", delves into:
The five phases of maturity associated with implementing omni-channel experiences across a commercial bank's customer-relationship ecosystem.
The importance of incorporating more traditional service channels like call centers and bank branches into an overarching digital experience strategy.
The clear business benefits—and implementation challenges—of driving true digital transformation.
"Our research demonstrates that, even with millennials, customers continue to seek the branch as an important way to interact with banks. We encourage our clients to think broadly about digital transformation as a strategy that includes both customer facing and employee facing interaction points. We have developed a maturity model that helps institutions assess where they are today and set targets for future evolution that aligns to the customer expectations demonstrated by our research," said Marc DeCastro, Research Director for IDC Financial Insights.
"Banks must shift from an endless cycle of maintenance to focus on delivery/integration of emerging capabilities," said Jeff Jones, Zenmonics' Chief Operating Officer. "Zenmonics' channelUNITED® is the only platform designed from its inception to deliver common banking services and a unified experience across customer- and employee-facing channels. This enables a path to true digital transformation."
Download a complimentary copy of the whitepaper "Importance of the Branch in a Mobile-First Digital Strategy" at zenmonics.com
About Zenmonics
Zenmonics is leading financial services transformation with channelUNITED®, our flagship product. The platform confronts the challenge of your dissociated systems and channels with a pluggable architecture that supports all bank channels on a single platform. channelUNITED® is the only production software platform specifically built to power both self-service and assisted channels on a single, unified technology stack, allowing both customer and associates to engage in seamless sales, servicing, origination and financial transactions from any access point.