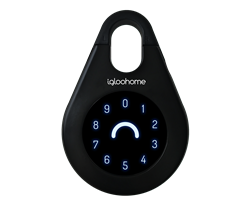 "We want to re-shape how people think about access, and help build up the sharing economy." - CEO of igloohome, Anthony Chow
(PRWEB) February 28, 2017
Guest lock-outs will be a thing of the past with start-up igloohome's all new product - the world's first smart lockbox that works offline.
Designed for short-term rental hosts, property managers, and home or property owners, the igloohome Smart Keybox provides 24-hour access to a property even when the host or owner is away.
Keys or keycards are stored inside the Keybox for visitors to retrieve when they arrive at the property. The Keybox can be unlocked via PIN code or bluetooth key, which can be generated by the host or owner via mobile app from anywhere in the world.
This means that hosts and property owners no longer need to arrange for meet-ups to hand the keys over to their guests. This saves time and effort, and makes it much more convenient for check-in in the wee hours of the morning, or visits when the owner is not around.
The host or property owner is also able to remotely select how long each PIN code or bluetooth key is valid for, be it hours, days or weeks, to ensure that security of the property is maintained after the guest leaves.
What makes the Keybox even smarter is that despite its remote capabilities, it works offline. The technology behind its PIN codes is similar to that of the internet banking token, involving cryptography and synchronisation.
This differentiates the igloohome Keybox from most other smart devices, which are dependent on wifi. Without the need for internet, the reliability of the Keybox is increased. It is perfect for deployment in properties for sale or rent where wifi is not set up, or in areas with weak/no wifi.
Similar technology has been used in igloohome's earlier product - the igloohome Smart Lock - which has seen sales increase exponentially since launch.
But the Keybox does not require installation, and instead can be easily secured on firm structures such as railings or door handles. This makes it suitable for those who have doors which are incompatible with the igloohome Smart Lock or are hesitant to permanently alter their door.
One particularly useful feature of the Keybox is its access logs. Home or property owners are able to monitor the date and time at which visitor bluetooth keys are used, from the igloohome app. PIN code access logs are also available, and are updated each time the owner uses a bluetooth key.
As a preferred partner of Airbnb, igloohome can integrate an Airbnb host's calendar with their igloohome account at a fee, so that generation of PIN codes for guests can be automated. This service is optional, and is intended not to remove the personal touch from Airbnb, but to provide greater convenience for the host.
Beyond Airbnb, the Keybox is relevant in many other scenarios. Co-founder of igloohome Walter Wang shares, "The Keybox can be used by real estate agents to let different clients into properties for viewing, by staff on shift in the office, or even by home owners to store their keys as a back-up. There is huge potential for the Keybox."
CEO of igloohome Anthony Chow says, "We want to re-shape how people think about access, and help build up the sharing economy."
The igloohome Keybox is now available for order worldwide here at the promotional price of USD$169 (usual price USD$199). Subscription for Airbnb integration is optional at USD$4.99 per month.