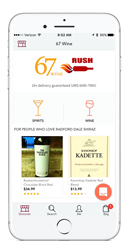 "The first mobile app in New York City to offer thousands of products, available to all of Manhattan, in as little as an hour." - Seth Weiser, 67 Wine
New York, NY (PRWEB) February 24, 2017
Consumers in New York City can now shop thousands of products of real-time inventory via the 67 Wine Rush mobile app. The free mobile app for iPhone enables customers to place orders in seconds for local delivery within Manhattan, or in-store pickup. Download from iTunes at: http://dryn.cc/67wineapp
67 Wine is the first retailer in New York City to launch a mobile e-commerce app of this nature, giving customers an easy and convenient way to browse and shop their store - anytime, anywhere. The 67 Wine Rush app offers customers exclusive access to 67 Wine's expansive inventory of fine wines and spirits, plus special promotions and events only available via the 67 Wine Rush app.
Unlike third-party marketplace and delivery apps, there are no markups on shelf prices for 67 Wine Rush. Consumers get the convenience of mobile ordering and delivery with better pricing, greater selection and personalized offers. 67 Wine receives 100% of the sales profits, allowing them to offer better promotions and invest in service and selection.
"67 Wine is looking forward to launching 67 Wine Rush - the first mobile app in New York City to offer thousands of products, available to all of Manhattan, in as little as an hour. We offer great prices, an extensive selection, and exclusivity with your local Manhattan wine shop," said Seth Weiser, marketing and sales consultant at 67 Wine.
"67 Wine's new Drync-powered app enables them to provide an unprecedented level of service to customers," says Brad Rosen, Drync's CEO. "Consumers today have very high expectations - the Drync platform gives 67 Wine a state-of-the-art, world class commerce app without having to invest in developing it themselves. 67 Wine now has a new communication channel through which they can connect with their best customers."
Notably, 67 Wine Rush has instant image recognition of over 2 million adult beverages. Customers can snap pictures of their favorite products, whether at a restaurant, in their cellar or at a friend's house, and buy it instantly if in-stock or request a special order from the store. The app will also generate personalized recommendations for each customer based on individual tastes and consumers can live chat with expert staff.
Key App Features:

Browse and search store's full catalogue of wine and spirits
Browse staff picks, product features and promotions
Purchase through the app for expedited in-store pickup and delivery
Live chat with expert staff
Snap a picture of any wine or spirit for instant details
Save personal ratings and notes to history
Receive personalized recommendations, based on tastes
Share products with friends through email, text or social media
About 67 Wine
As a leading wine destination since 1941, 67 Wine & Spirits is pleased to bring its outstanding selection and experienced service to our mobile platform. We are consistently rated one of the best wine shops in New York, and you can be assured that you will have access to the same outstanding selection and quality service that has made us a leading wine merchant.
About Drync
Drync, Inc. is a venture-backed mobile SaaS platform for beverage e-commerce. Founded in 2008, the Drync app has been a top wine app for eight years where consumers can track, share and buy wine, beer and spirits through browse, text search, or snapping a picture of the label. In 2016, Drync launched a turnkey mobile platform built on its technology specifically for beverage alcohol retailers to have their own unique sales and marketing apps. In April 2016, Drync also launched a collaboration with eBay offering seamless integration for Drync Partners to market their products on eBay. For more information, visit: http://www.drync.com.