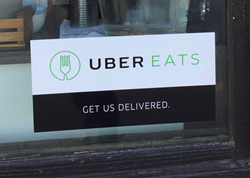 Having a great cup of coffee delivered has added a whole new level of convenience for our customers.
Columbus, Ohio (PRWEB) February 24, 2017
Columbus, Ohio residents craving a hot cup of java, cappuccino or cold brew can now have it delivered to their home or office, thanks to Crimson Cup Coffee & Tea and UberEATS. Customers can place orders via the UberEATS mobile app or at UberEATS.com, using the same account they would use to take Uber rides.
"Our Crimson Cup Coffee Houses in Clintonville and Upper Arlington will brew up your favorite beverage for delivery between 6:00 a.m. and 7:00 p.m. daily," said Founder and President Greg Ubert. "You can also choose items from our menu of breakfast sandwiches and local baked-goods – and we'll even deliver coffee beans for you to brew at home."
Crimson Cup decided to explore delivery services after receiving numerous inquiries at the coffee houses, said Regional Manager Amber Raffeld. "Having a great cup of coffee delivered has added a whole new level of convenience for our customers."
Drink prices range from $2.75 for a brewed cup of the Columbus coffee roaster's signature Armando's Blend to $6 for a large mocha. Non-coffee options include hot chocolate, tea, chai latte and fruit smoothies. Drinks are available hot, iced or frozen. Uber charges a $4.99 delivery fee.
The food menu features hot breakfast sandwiches, oatmeal, local baked goodies and coffee cake. Prices range from $2.75 to $4.
In addition to individual drinks, customers can order small or large Joe-2-Go disposable coffee carafes with brewed coffee to serve up to 40 people, along with cups, lids, cream and sugar. The cost is $19.99 for a small Joe-2-Go serving 8 to 10 people, and $68.99 for a large container serving up to 40.
Fresh-roasted Crimson Cup coffee beans can be ordered as whole beans or ground to order. The cost for a 12-ounce bag ranges from $12.50 for the roaster's signature blends to $23.50 for its award-winning direct trade and single origin coffees. A box of 12 single-serve coffee capsules costs $12.99.
About Crimson Cup Coffee & Tea
Columbus, Ohio coffee roaster Crimson Cup Coffee & Tea is Roast magazine's 2016 Macro Roaster of the Year. Since 1991, Crimson Cup has roasted sustainably sourced specialty and craft coffee in small batches. The company also teaches entrepreneurs to run successful coffee houses through its coffee franchise alternative program, which includes a coffee shop business plan. Crimson Cup coffee is available through a community of more than 350 independent coffee houses, grocers, college and universities, restaurants and food service operations across 29 states, Guam and Bangladesh, as well as the company's own Crimson Cup Coffee Houses. To learn more, visit crimsoncup.com.