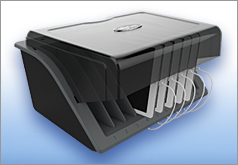 "These new desktop charging stations are affordable, portable solutions that fit into any environment."
Chicago, IL (PRWEB) February 24, 2017
Tripp Lite, a world-leading manufacturer of power protection and connectivity solutions, has introduced two new desktop charging stations that provide secure storage and convenient charging for tablets, laptops, e-readers and mobile phones.
For a fraction of what it costs to replace just one lost or stolen iPad, Tripp Lite's desktop charging stations each feature a removable locking cover, as well as a separate cable combination lock to secure the charging station to a desk or table. While the devices are kept secured and charging, integrated cord-management slots keep cables hidden and organized.
The charging stations are available in a USB version that delivers up to 2.4 amps of power to each of its 10 charging ports and an AC version with 10 surge-protected AC outlets. These compact charging stations are the perfect solution for classrooms, nurses' stations, reception areas, retail breakrooms, staff areas in hotels and restaurants, business offices and industrial environments in need of storage and charging for devices.
Learn More
Download Product Images
Key Features of Tripp Lite's New Desktop Charging Stations
•Removable locking cover provides security not found in most other desktop charging stations
•1.25 in. wide slots hold devices up to 10.5 in.
•Shelf dividers are removable to accommodate devices of different sizes
•The USB charger is removable, allowing it to be used as a portable charging hub
•The AC charger features a removable surge protector with 2,880 joules to keep connected devices safe from power surges and EMI/RFI line noise
•A cable with combination lock further deters theft of the enclosed devices
"With the growth of tablets and other mobile devices in education, business, hospitality and healthcare, there's a clear need for space-efficient charging that keeps the devices protected and ready for use," said Karenann Brow, Tripp Lite Director of Product Marketing. "These new desktop charging stations are affordable, portable solutions that fit into any environment."
For more information about Tripp Lite's line of charging station solutions, visit:
Charging Stations and Carts
About Tripp Lite
Outstanding product reliability and exceptional service have been Tripp Lite trademarks for over 90 years. Tripp Lite´s innovations include the world's first UPS system designed specifically for personal computers and the world's most trusted premium surge protector—the Isobar®—with more than 19 million in use. Tripp Lite maintains the highest level of ready-to-ship inventory in the industry with more than 3,500 different products, including UPS systems, rack systems and cooling solutions, PDUs, PowerAlert software for enterprise-level system management and control, surge protectors, KVM switches, cables and connectivity products, inverters, power strips and notebook accessories. Headquartered in Chicago, Illinois, Tripp Lite maintains a global presence with fully staffed offices worldwide. Additional information, including a list of Tripp Lite's sales offices and authorized reseller partners, can be found by visiting Tripp Lite's website: http://www.tripplite.com.