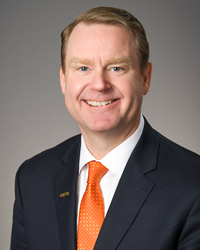 Our group's most important task is studying the evolving role of high-occupancy vehicle, high-occupancy toll, and managed lanes in response to the challenges of congestion, energy consumption and climate change
ARLINGTON, VA (PRWEB) February 24, 2017
Matthew Click, AICP, HNTB Corporation national director of priced managed lanes and vice president, has been appointed by the Transportation Research Board to its Standing Committee on Managed Lanes.
Bringing more than two decades of industry experience, Click joins the distinguished group of transportation professionals for a three-year term. Click has been active in TRB for more than 12 years.
"I'm pleased to enhance my involvement with TRB in my new role on the Standing Committee on Managed Lanes," Click said. "Our group's most important task is studying the evolving role of high-occupancy vehicle, high-occupancy toll, and managed lanes in response to the challenges of congestion, energy consumption and climate change."
The committee examines methods for enhancing person throughput, energy conservation, air quality, and user choices and safety through the optimization of preferential lanes, priority treatments, and other supporting systems for bus transit, carpooling and vanpooling.
In his role as HNTB's national director of priced managed lanes, Click advises federal agencies and state DOTs about planning, financing and implementing priced managed lanes, corridors and networks. He has worked on or advised priced managed lanes projects in Florida, Texas, Georgia, Minnesota, Washington and several other states across the country.
Click has experience working with both the public and private sectors, including public tolling authorities, private concessionaires, state departments of transportation, metropolitan planning organizations, regional transportation authorities and the federal government.
HNTB is the nation's No. 1 consultant to toll authorities, currently serving as the general engineering consultant to more toll agencies than any other firm. With a national breadth of tolling expertise and recognized industry leaders, HNTB provides specialized services and an in-depth understanding of financial and engineering feasibility, toll plaza design, priced managed lanes, toll collection technology, operations and solid relationships within the investment banking community and bond markets.
About HNTB
HNTB Corporation is an employee-owned infrastructure firm serving public and private owners and contractors. With more than a century of service in the United States, HNTB understands the life cycle of infrastructure and addresses clients' most complex technical, financial and operational challenges. Professionals nationwide deliver a full range of infrastructure-related services, including award-winning planning, design, program management and construction management. For more information, visit http://www.hntb.com.